Our biggest shot for this year was a more than two weeks long collecting trip to Bulgaria and Greece. It was the last winter when we talked about this first and as soon as we got enough time and money, we started to organize. András worked out most of the plan, and after several meeting and phone call, the scenario got ready.We left Budapest with Attila's car, and picked up Andris in Szeged, and from here we travelled directly down to southern Bulgaria. We spent two nights in Bulgaria, and after crossing the Greek border and three days of driving we reached the Sapka Mountain, near to the Turkish border. From here we drove across Thrakia to the Olympos Mountain, and stopped sometimes for nights and collecting. Our road led to the famous monasteries built on top of the Meteoras, and we arrived back to the area of Kresna. After collecting here, we moved to Baile Herculane in Romania. In this well-known entomologist location we spent two nights, and collected many beetles as final action in this trip. About five thousand beetles were collected during our expedition, most of them are deposited in the Hungarian Natural History Museum.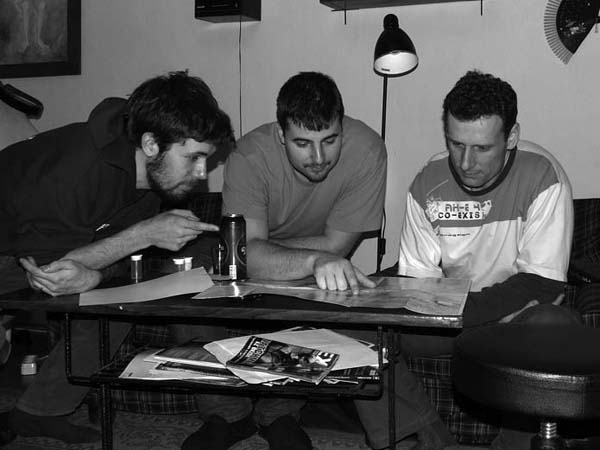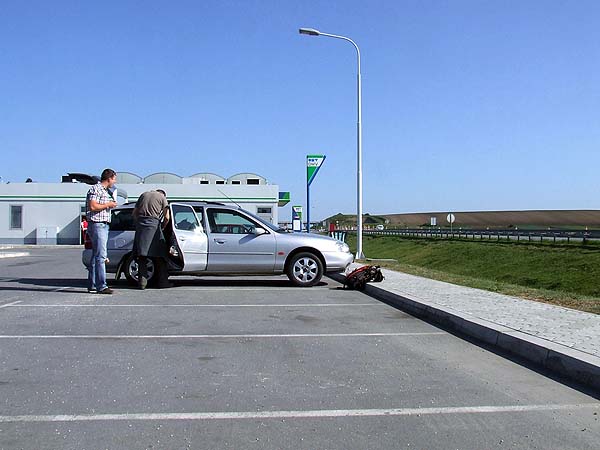 Our first stop for stretching our limbs in Serbia. We had lots of luggage, just fitting in the car. An individual of
Pedestredorcadion scopolii
walked toward us us in the car park, which was a positive sign.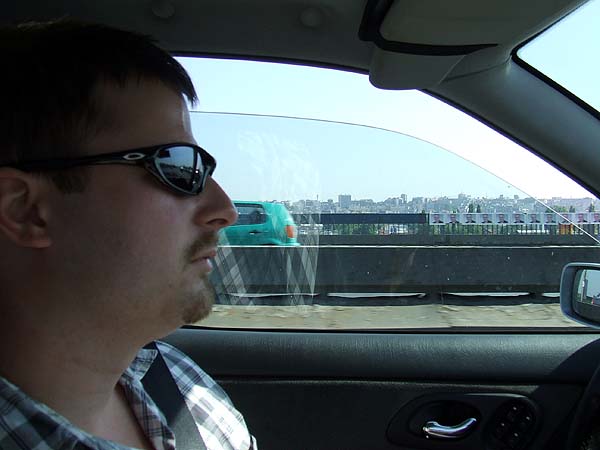 Koati was very excited, so tirelessly drove through Serbia and most of Bulgaria.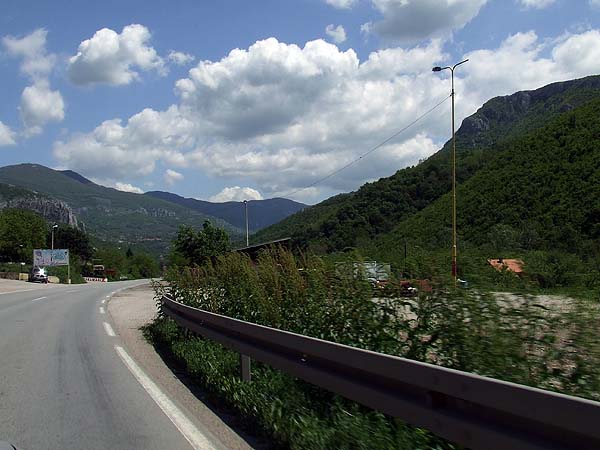 Southern Serbia, near to Ostrovica. This place was familiar to me, I travelled many times around here, during my holidays.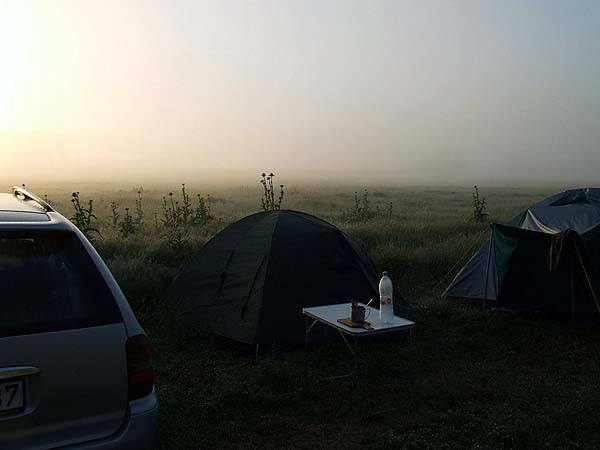 Before night we reached our first destination, the low hills along the Struma River.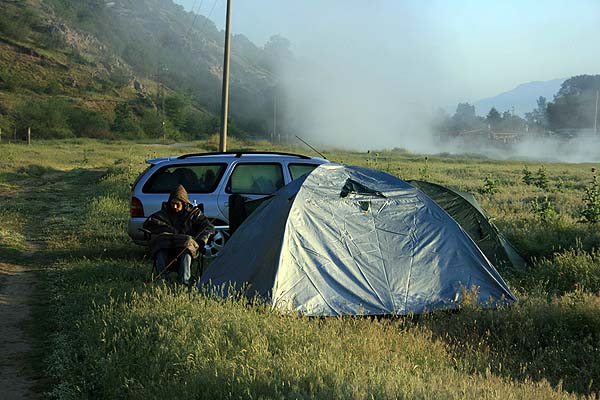 Because of the hot springs thick mist covered the landscape. (photo: A. Kotán)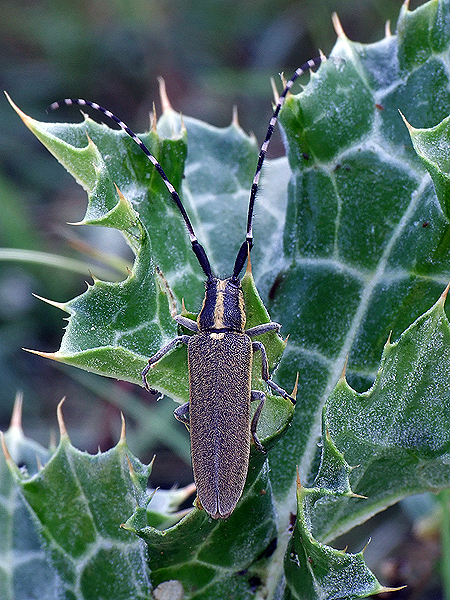 These longhorns (
Agapanthia cynarae
) were our first captures.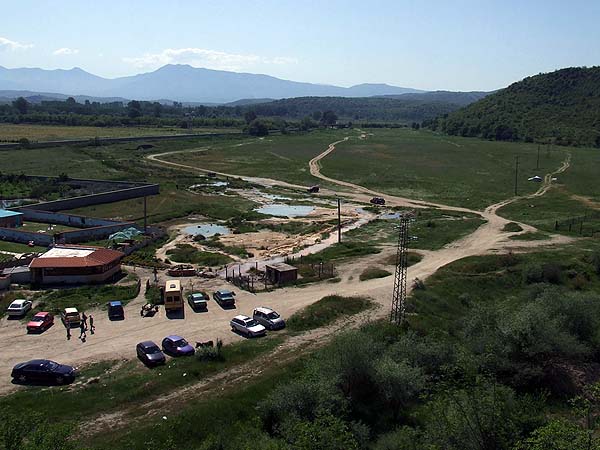 As the sun rose, the mist disappeared, and a really hot day got started.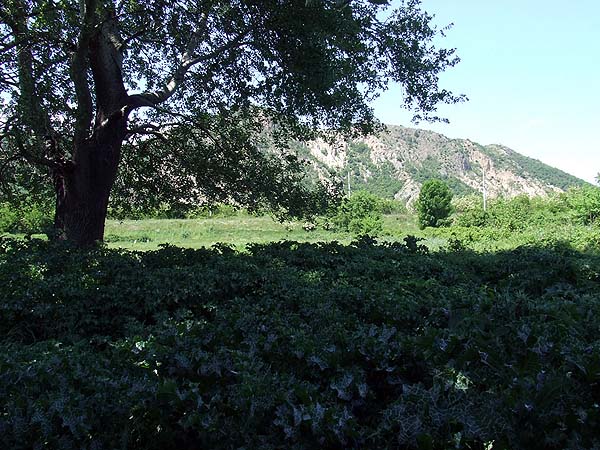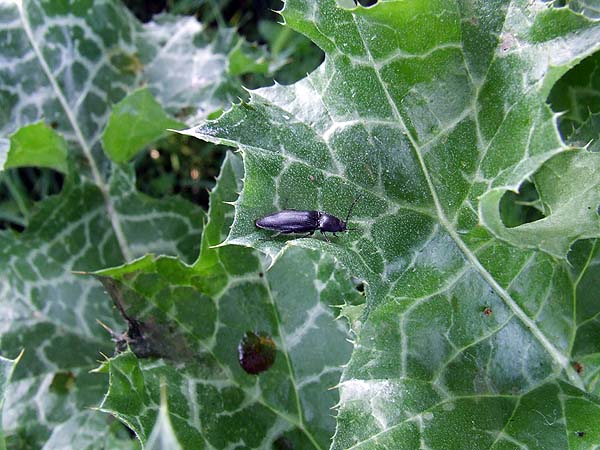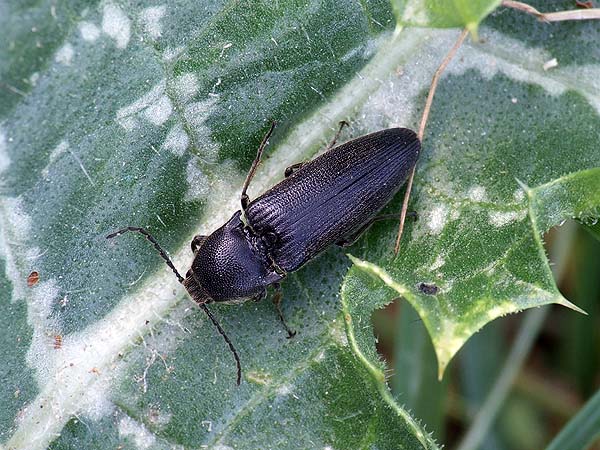 These common click-beetles
(Melanotus punctolineatus)
were swarming in shady places.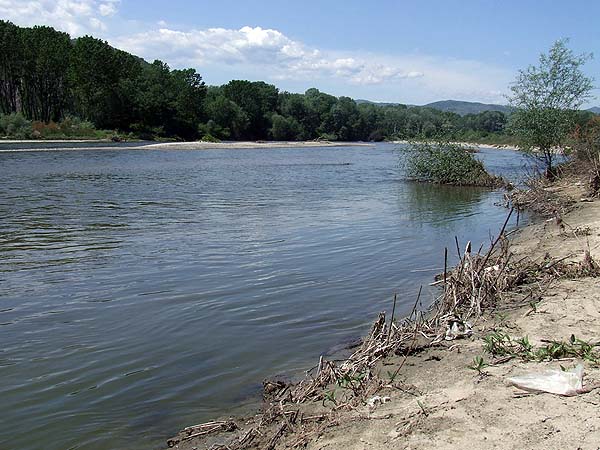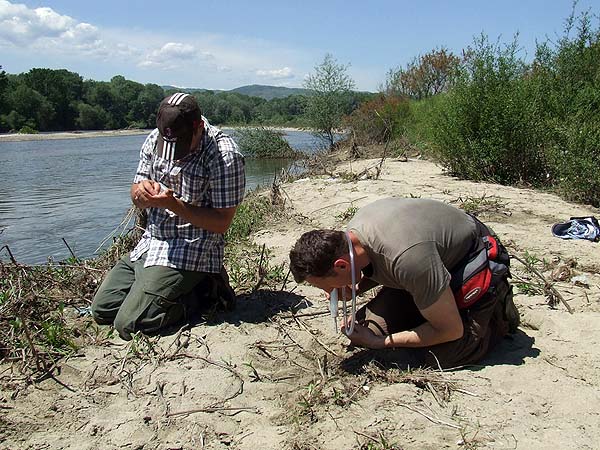 Struma is a very fast-flowing river with gravel bank. In this nice habitat we searched for click-beetles. Three species were caught, which also live in Hungary (
Zorochros dermestoides, Zorochros meridionalis, Negastrius sabulicola
)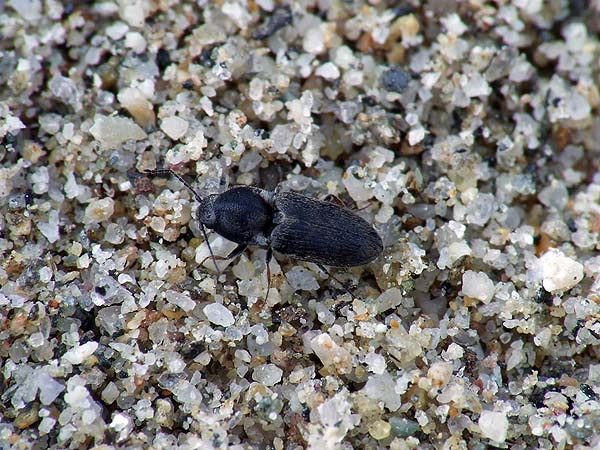 and the larger, black
Zorochros alysidotus
, which does not occurs in Hungary.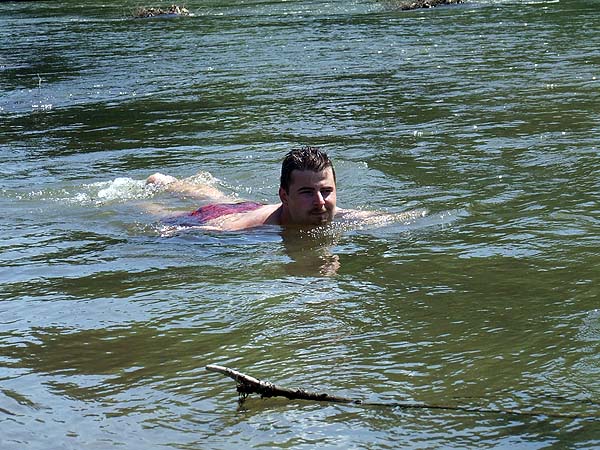 Chasing tiger beetles is an exhausting activity. Fortunately the cool water of Struma provided relief.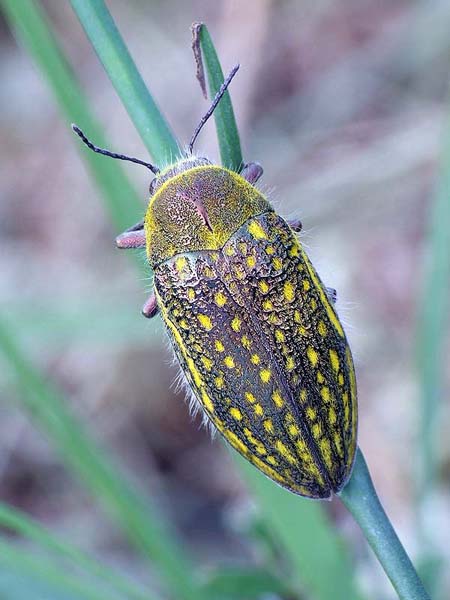 On the hillside next to the river jewel beetles were found hanging on the grasses,
looking like candies.
Julodis ehrenbergi
(det. N. Rahmé).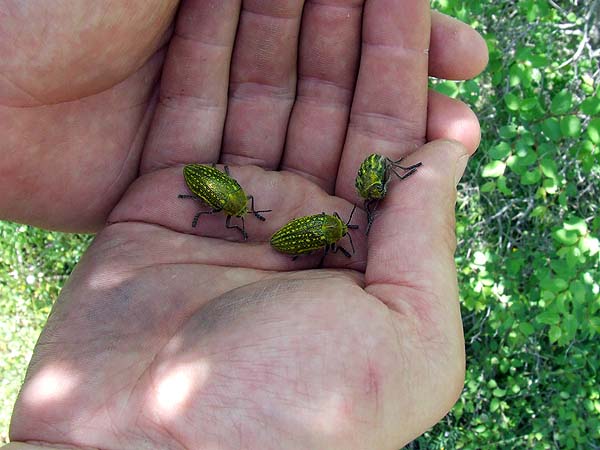 Holding these buprestids of the size of may beetles I realized it is the Mediterranean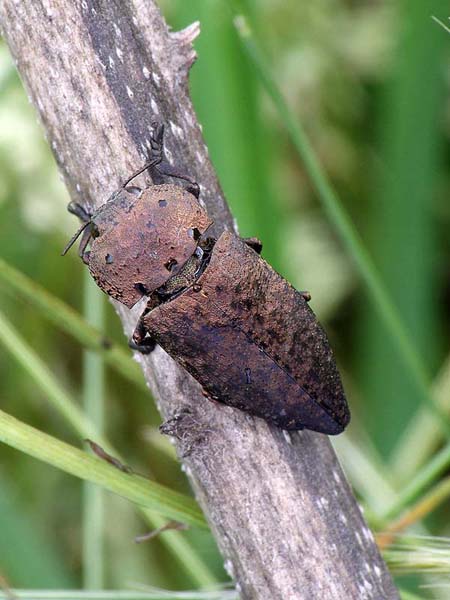 Capnodis tenebricosa
on
Rumex.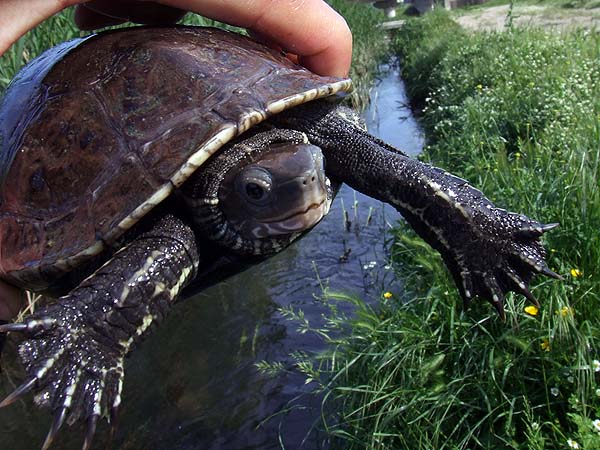 On the way back to our campsite I spotted a terrapin. I splashed into the stream and managed to capture it.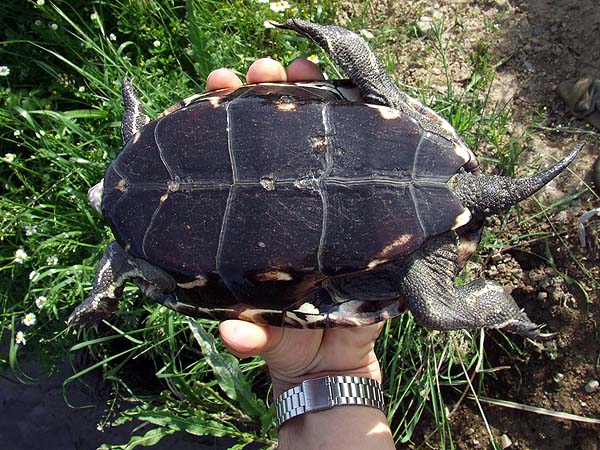 Balkan Terrapin
(Mauremys rivulata)
.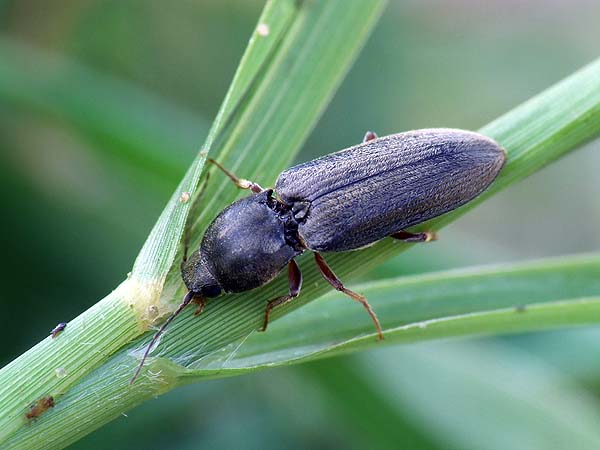 Next morning I tried to take some pictures in the chilly air.
This click-beetle (
Dicronychus equisetioides
) was quite common during our trip.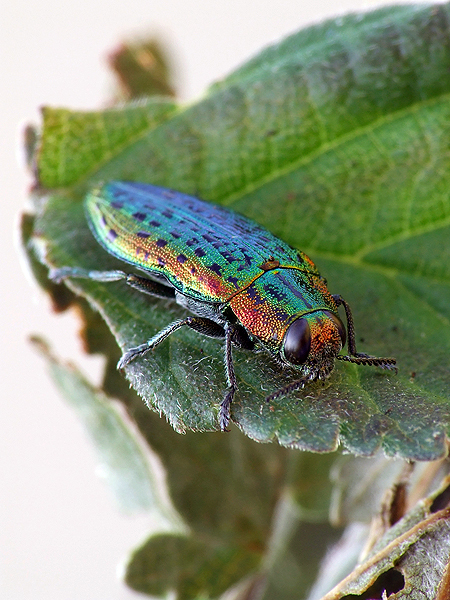 These jewel beetles
(Lampra mirifica
) were close to emergence.
Several specimens were waiting in their pupal cells, and a very early specimen landed on Attila.
This weevil (
Chlorophanus viridis
) is usually covered with beautiful green pubescence,
but it was hard to find specimens with complete vestiture. (det. A. Podlussány)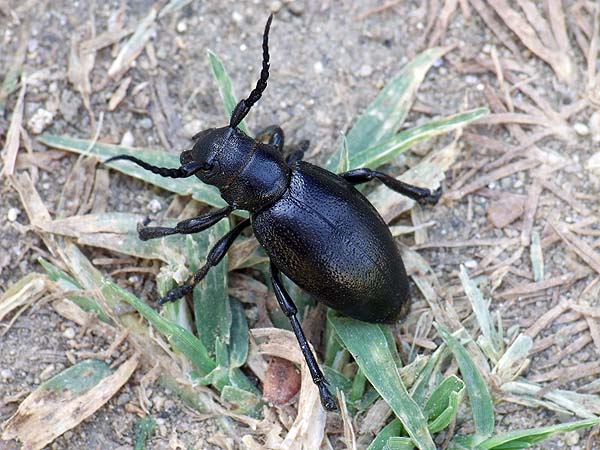 The first Bulgarian
Dorcadion
for the guys:
Dorcadion lugubre
.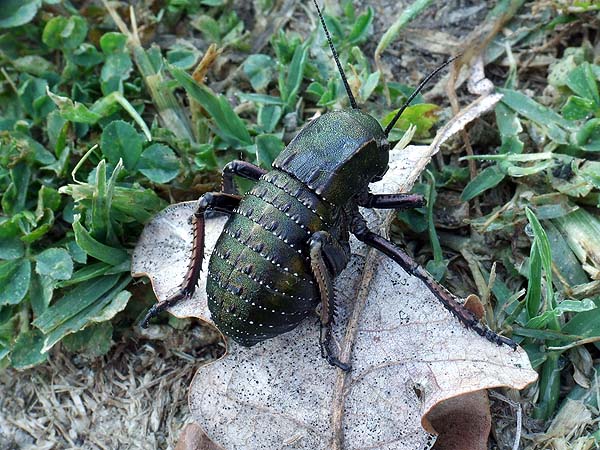 Huge bush crickets (
Bradyporus dasypus
) were walking on the leaf litter under the shrubs of the hillside.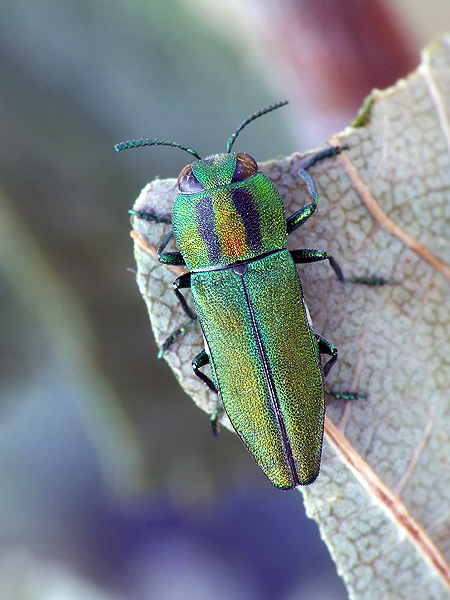 A showy jewelbeetle:
Anthaxia scorzonerae
.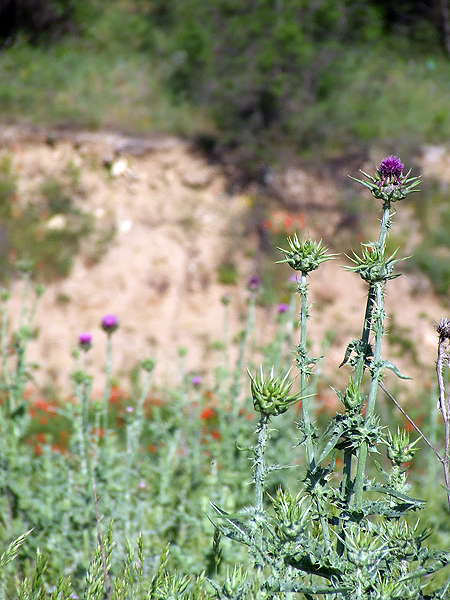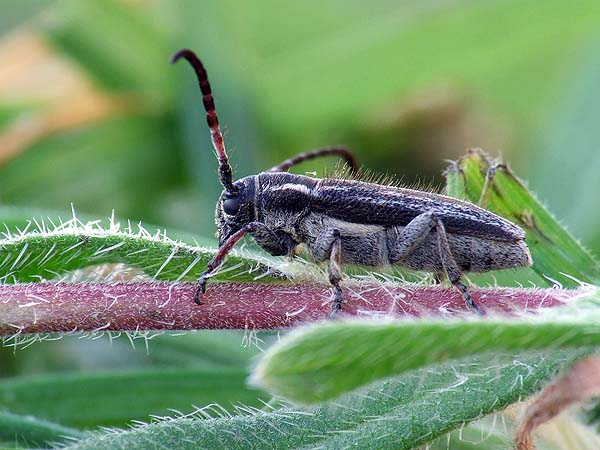 As a result of lenghty search we found the host plant of an endemic longhorn, and a few old and battered specimens.
Coptosia albovittigera.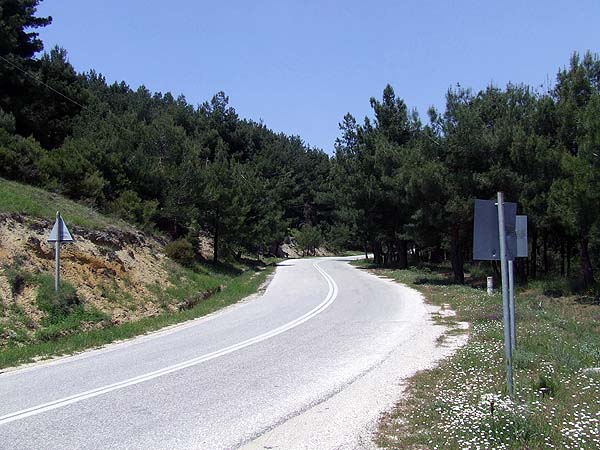 After two very succesful days we left Bulgaria, and headed to north-eastern Greece.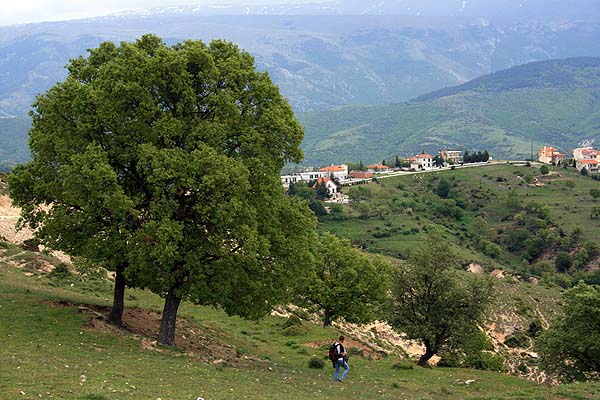 Our first stop in Greece, near to Oreini. The climate was similar to the early spring, and not many insects were seen. (photo: A. Kotán)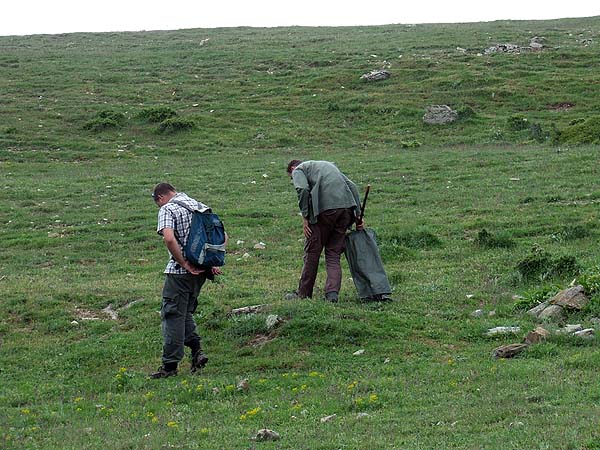 Although we held sweep-net in our hands, in fact there was no beetle to collect.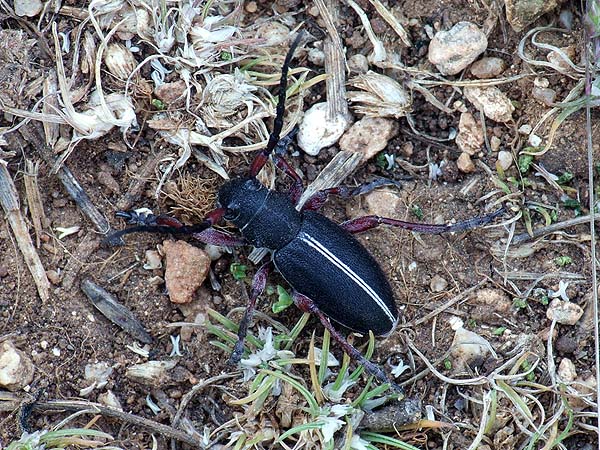 We caught here a showy species,
Dorcadion lineatocolle
.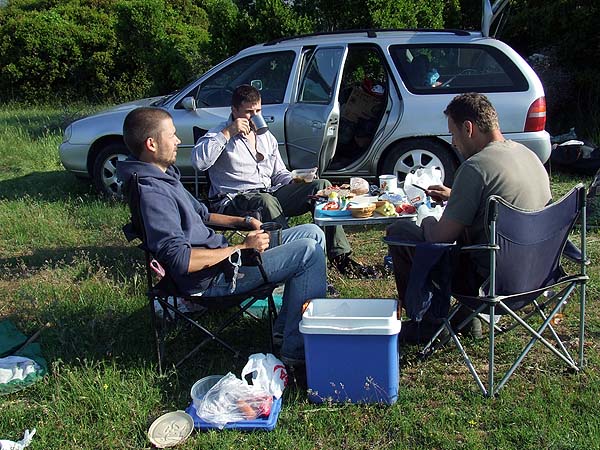 We spent the night on lower levels, and started to get the pace of the collecting trip.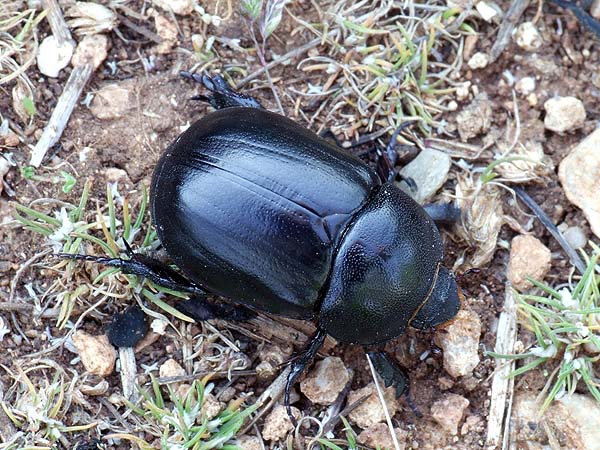 A
Pentodon bidens punctatus
walked under my chair.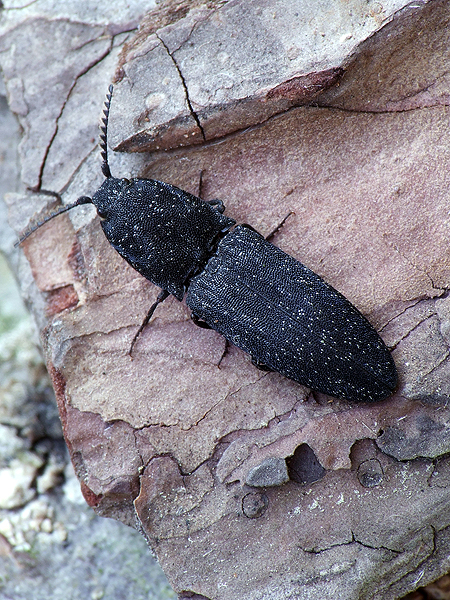 Lacon punctatus
is quite common in the Mediterranean, but rare in Hungary.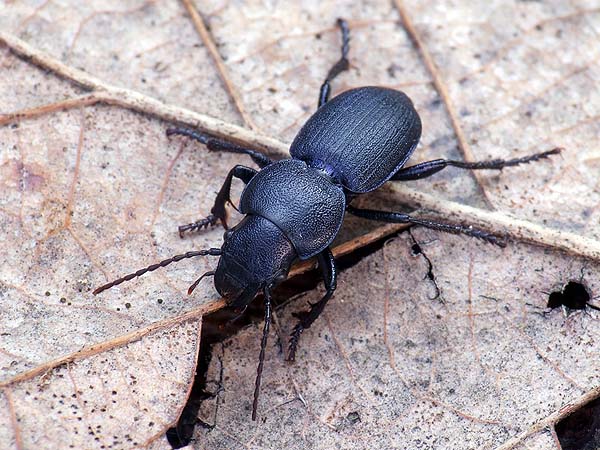 This handsome ground beetle is
Mystropterus cyaneus.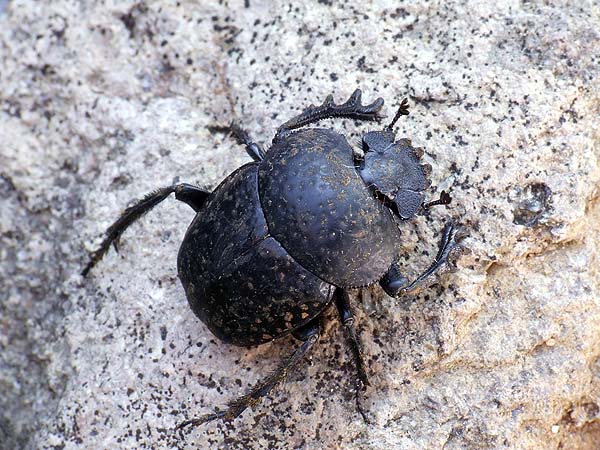 Scarabaeus variolosus
attracted by human faeces.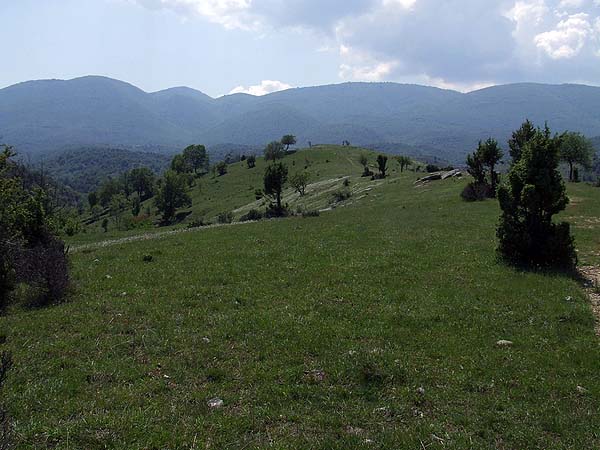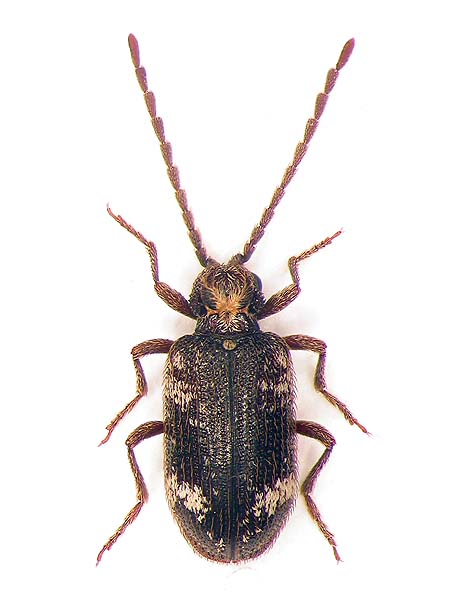 A spider-beetle was beaten from oak:
Dignomus frivaldszkyi.
The types of this species can be found in our museum. (photo: Z. György)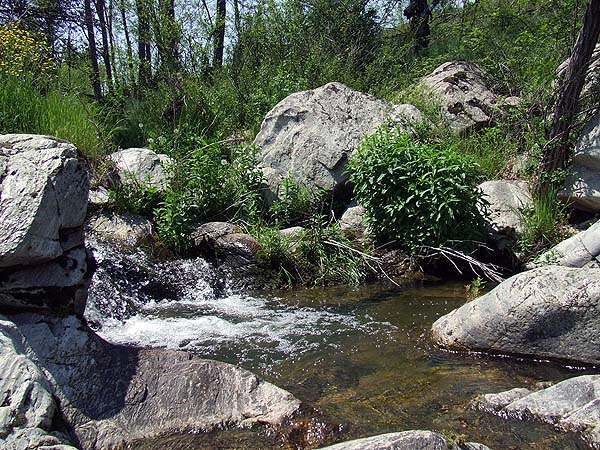 A serene stream valley near Nikiforos, with poor catch.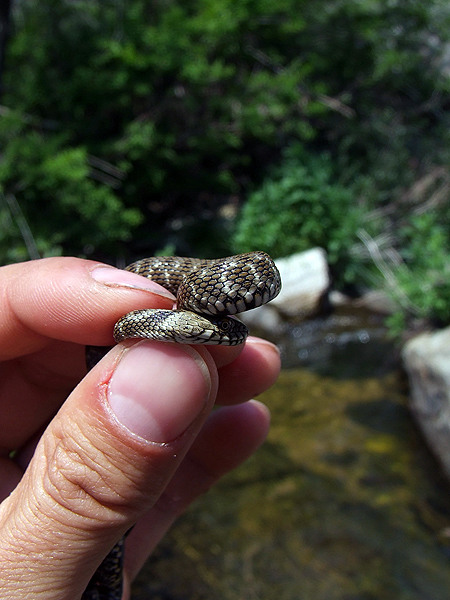 Young Dice Snake (
Natrix tessellata
).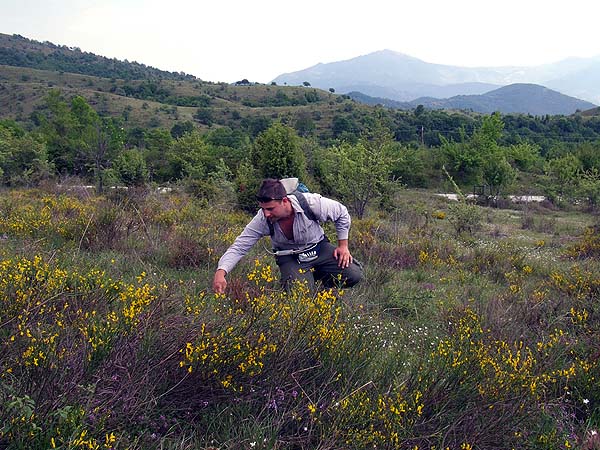 We headed to the mountains in the direction of Kariofito, but because of the arduous roads we had to turn back. The vegetation was in the state typical of early spring at 400 m above sea level.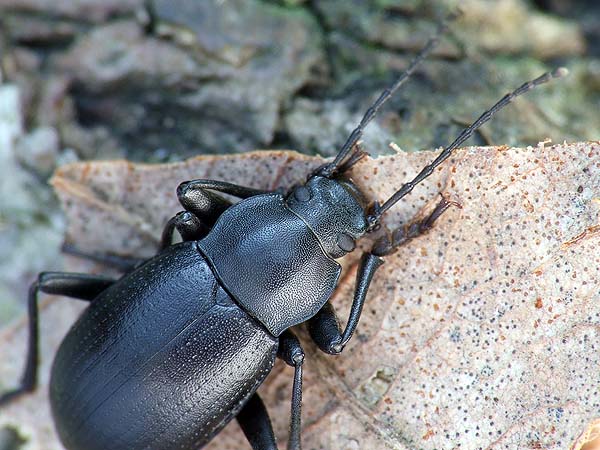 This darkling beetle (
Probaticus tenebricosus
) was hiding under bark of oak
.
(det. O. Merkl)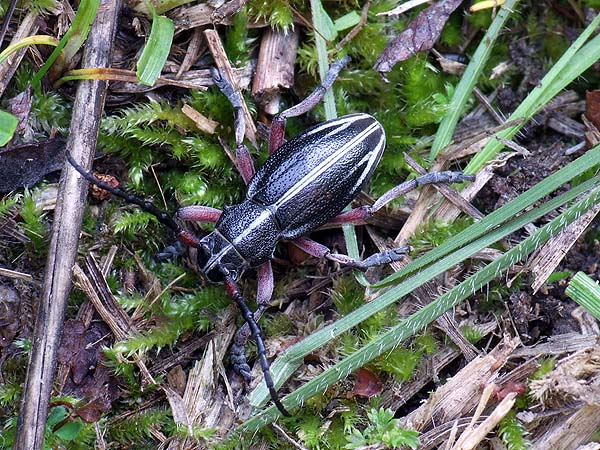 Dorcadion breuningi
male.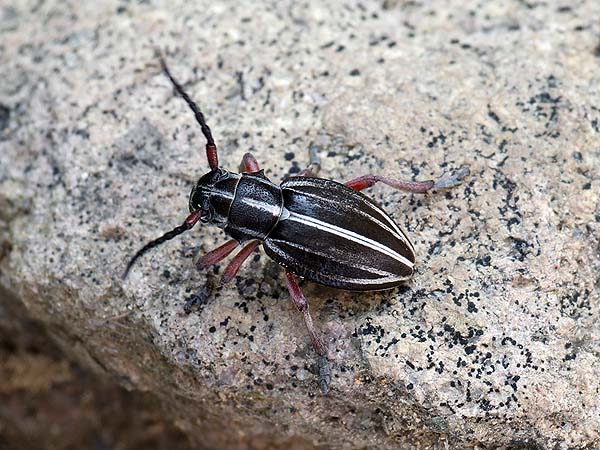 Dorcadion breuningi
female.
Attila spotted this huge ground beetle (
Procerus scabrosus
) crossing the road.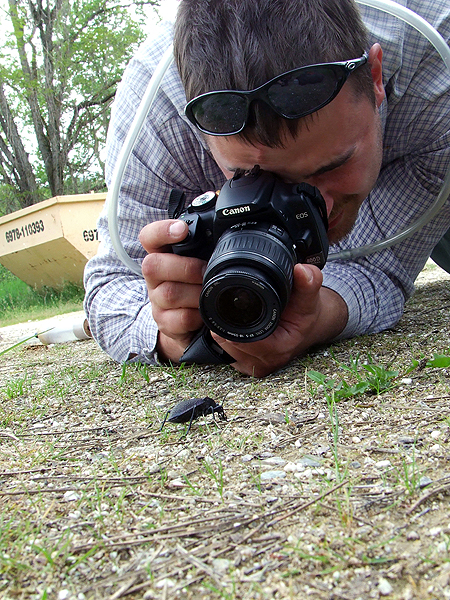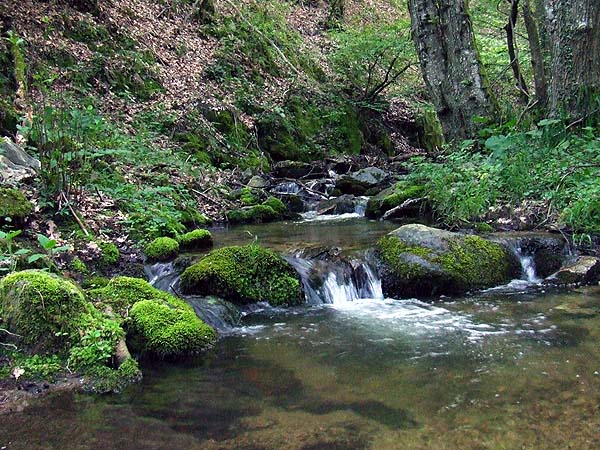 Late afternoon we visited this nice valley in the hope of capturing many beetles, but unfortunately it looked a bit deserted.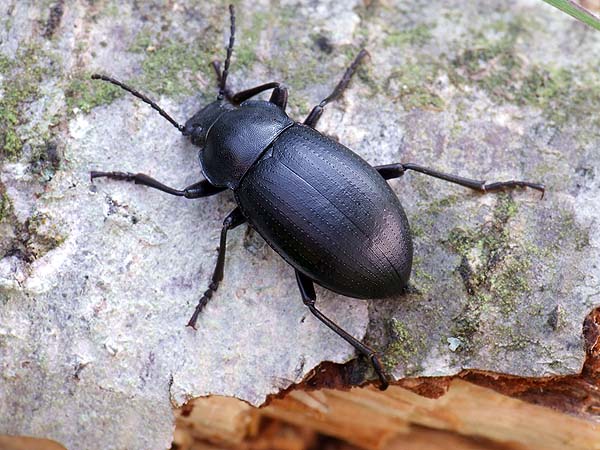 Another
Probaticus tenebricosus
, from beneath bark of alder, caught by Andris.
(det. O. Merkl)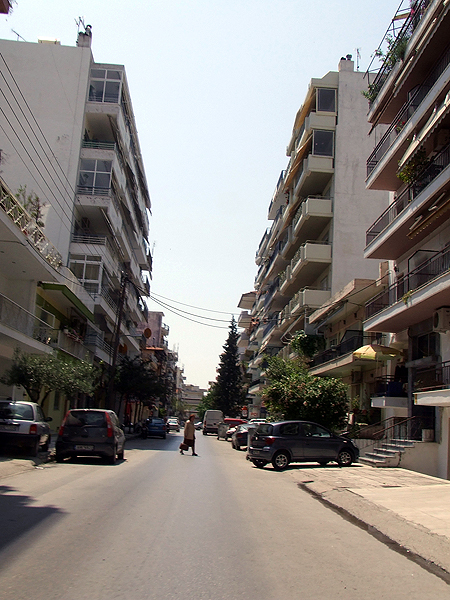 Our way led across the city of Xanthi to Nea Santa. The Turkish influence was strong in this area.
As well as Christian chapels we saw mosques, and the face of most women was veiled.
The usually cheerful Greek smiles changed into suspicious faces here.
Macchia at the foothills of Sapka Mountain.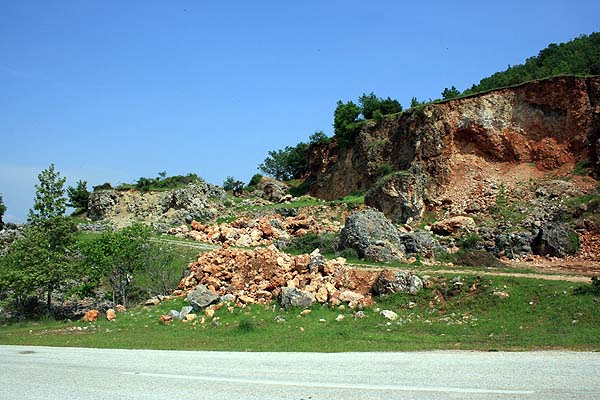 (photo:A. Kotán)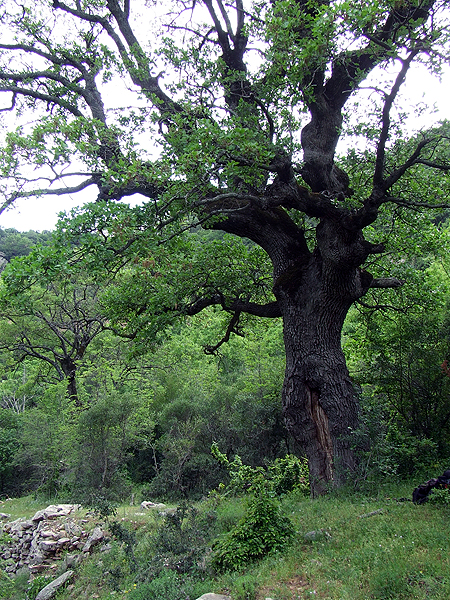 Ancient oak in a stream valley, with exit holes of
Eurythyrea quercus
.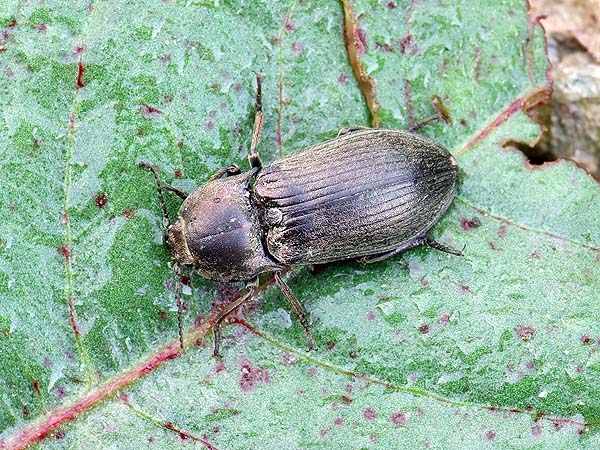 Selatosomus latus
from beneath stones.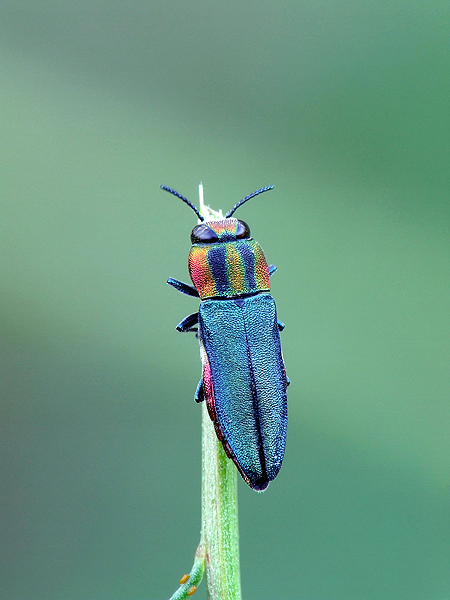 Anthaxia sponsa
swept from the vegetation.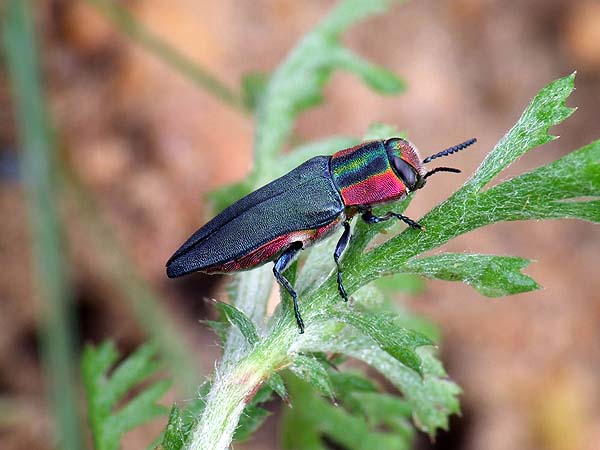 Anthaxia hungarica
.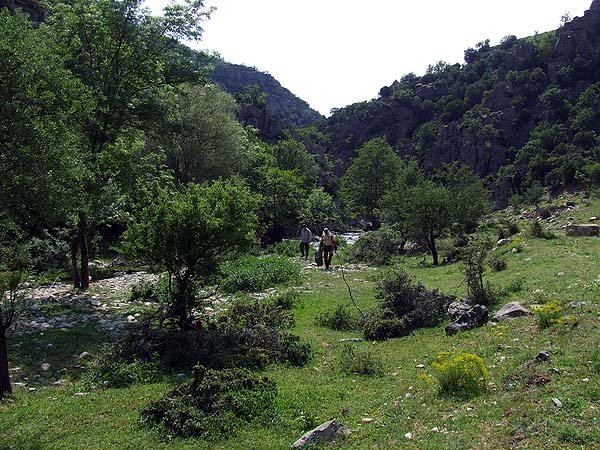 In the open places we found nice collecting places.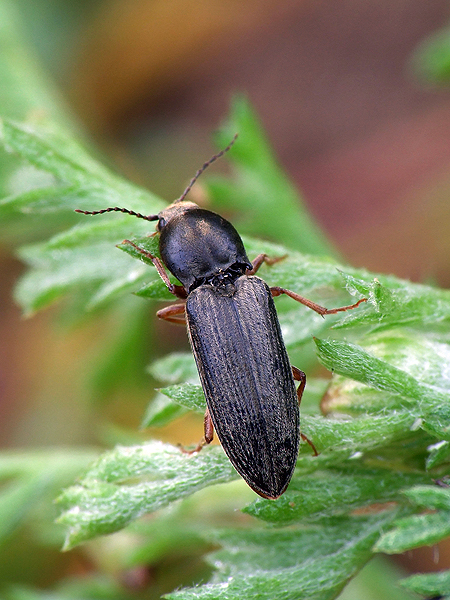 Dicronychus equisetioides
.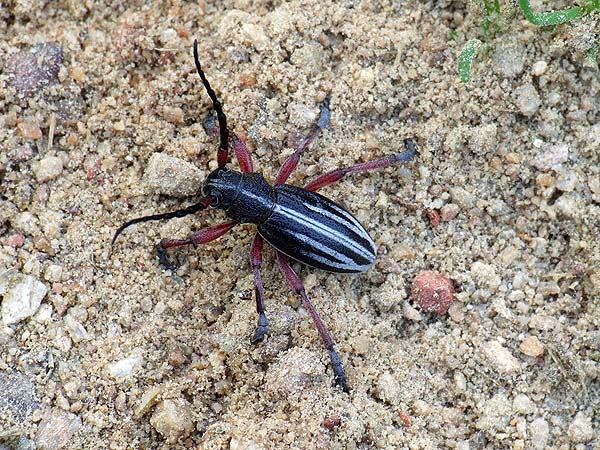 One of our major aim was realized when we caught a few
Dorcadion sapkaianum
. Male,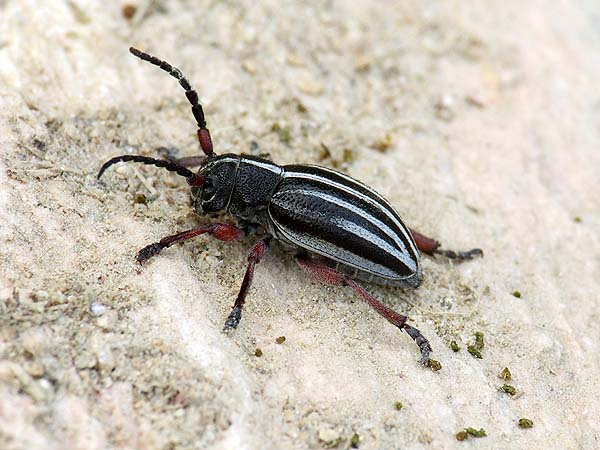 ...and female.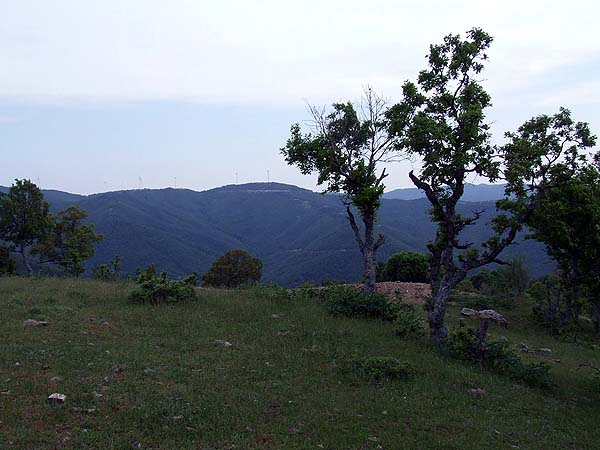 On higher levels we found an old oak grove. Many exit holes of
Kisanthobia ariasi
were seen on old branches.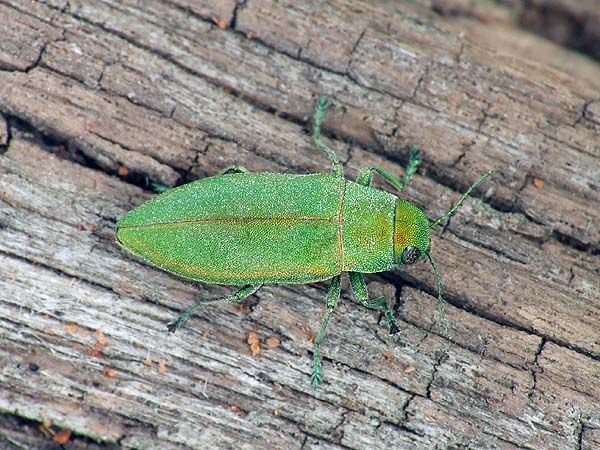 This specimen (
Kisanthobia ariasi)
emerged from the branches I took home.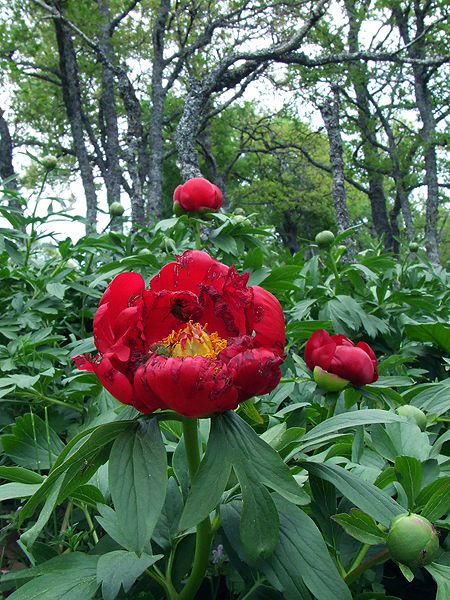 These
Eulasia
species were seeking shelter from the rain in these peony flowers (
Paeonia
).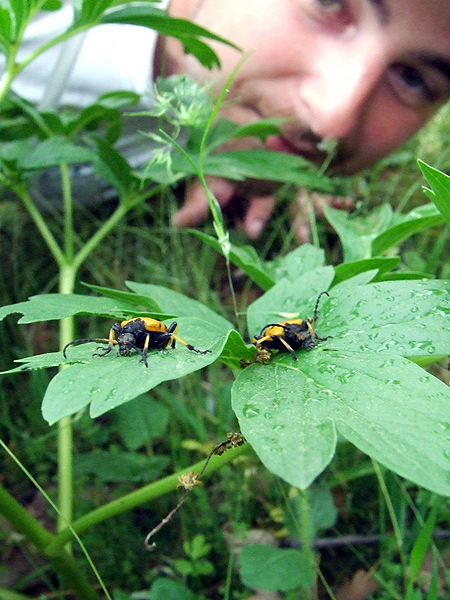 Handsome longhorn beetles were feeding on the underside of the leaves.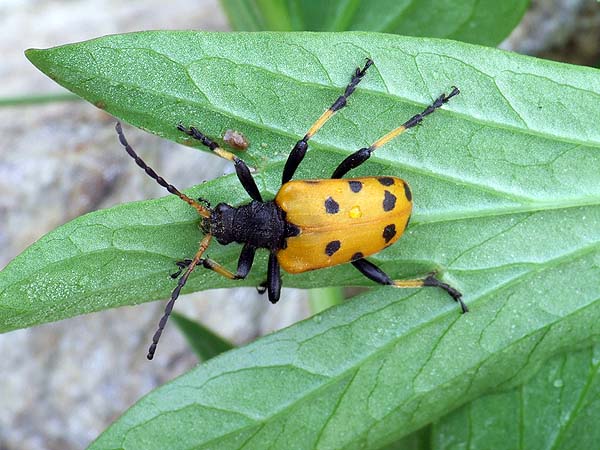 We discovered the habitat of this rare longhorn beetle (
Brachyta balcanica
).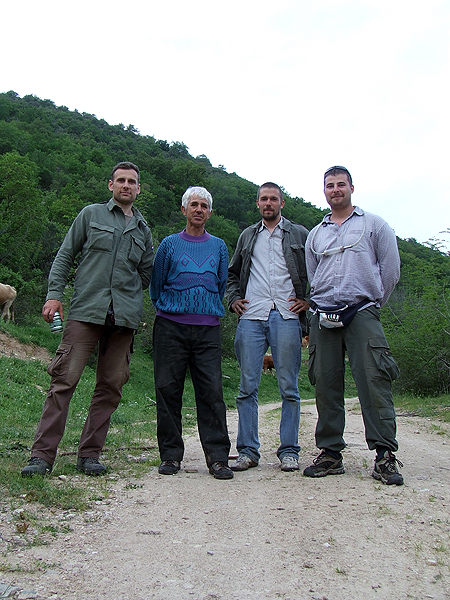 A local man herding his cows kindly offered his property for pitching a camp.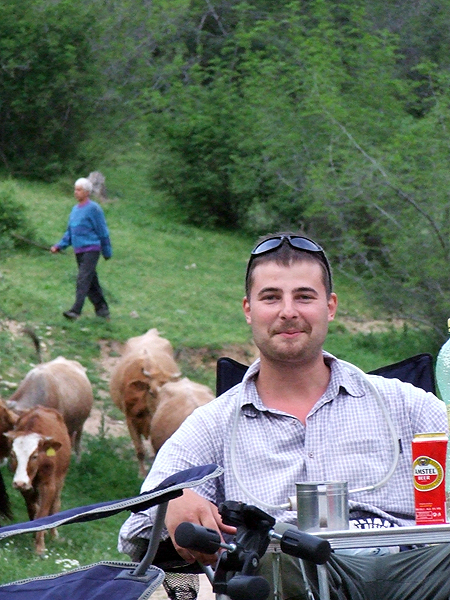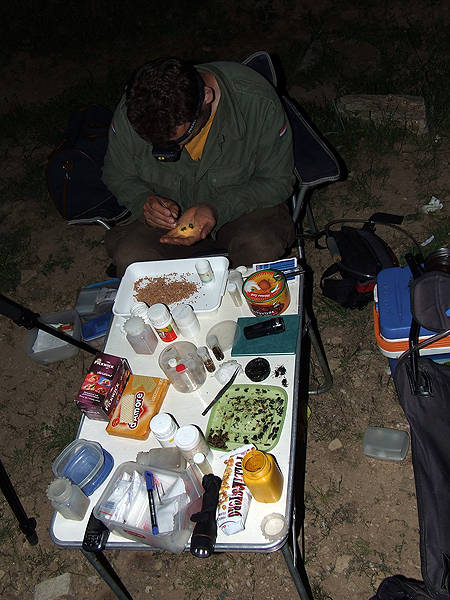 After a quick dinner we started to sort the material out.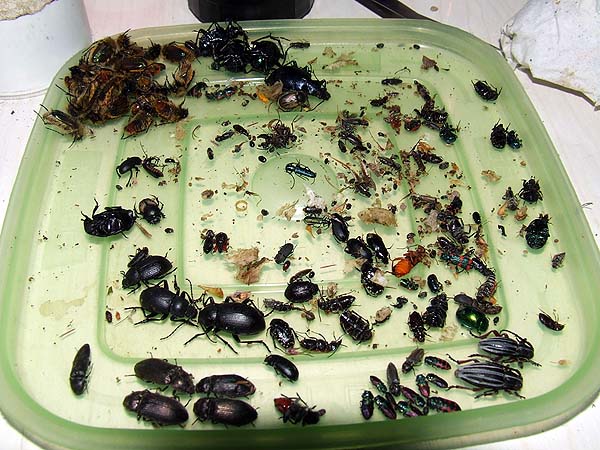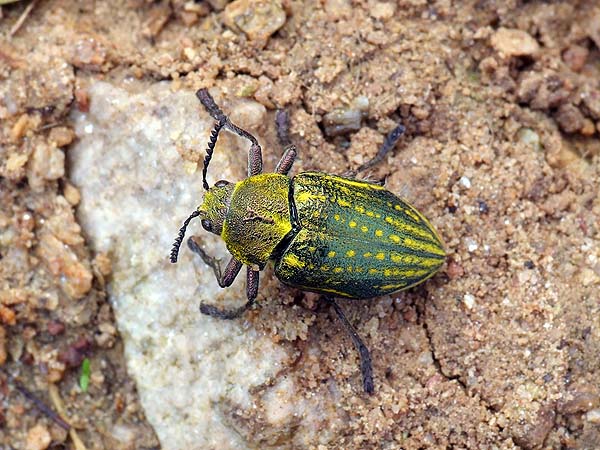 Next day we visited the nearby village to get drinking water. I found this "candy-beetle" in my net.
Julodis ehrenbergi.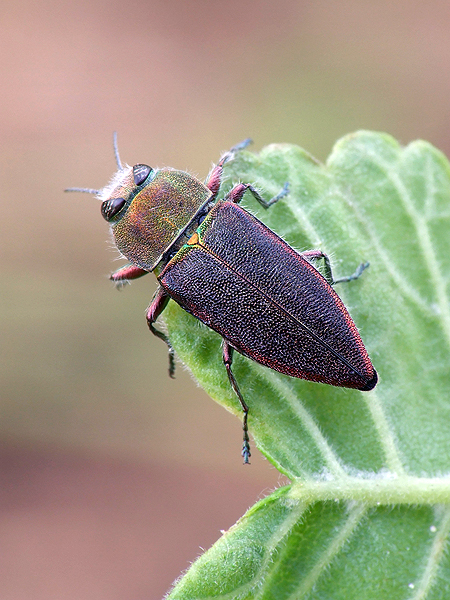 This
Anthaxia senicula
landed on Attila, while he was getting water.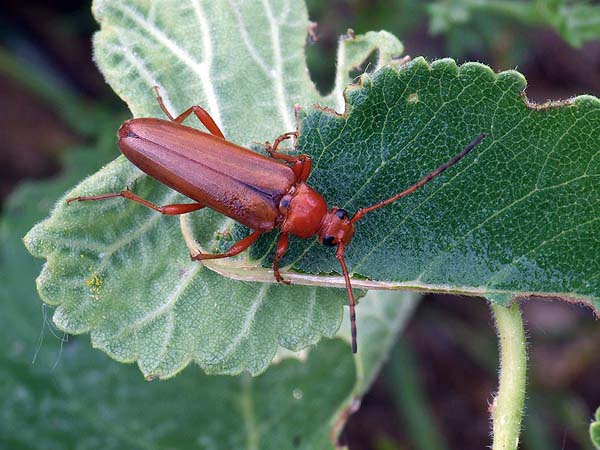 We used our long-hafted nets to examine the nearby elm trees.
This is a nice longhorn (
Pedostrangalia revestita
) from the canopy.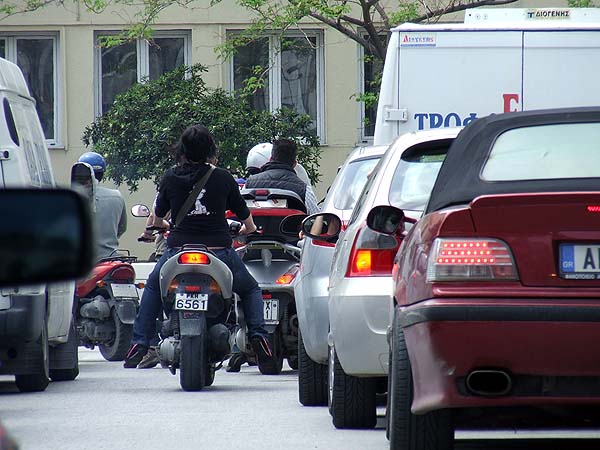 On the way to our next destination, Olympos Mountain.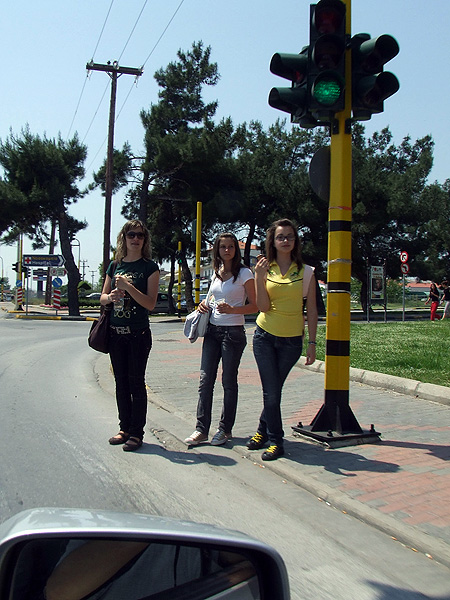 Female pedestrians.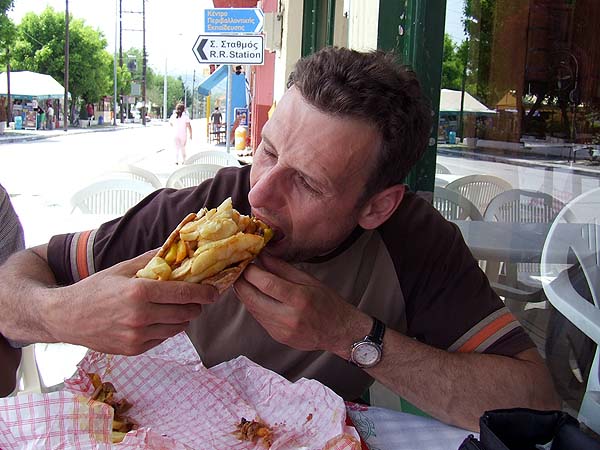 Calory intake.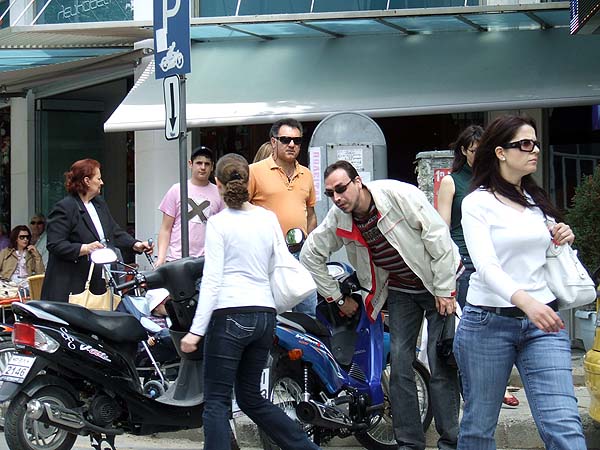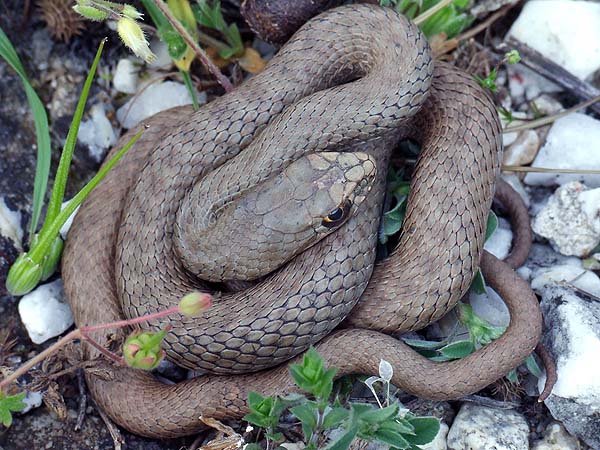 This young, fortunately alive, eastern Montpellier snake (
Malpolon insignitus
) was found on the road near Lekani.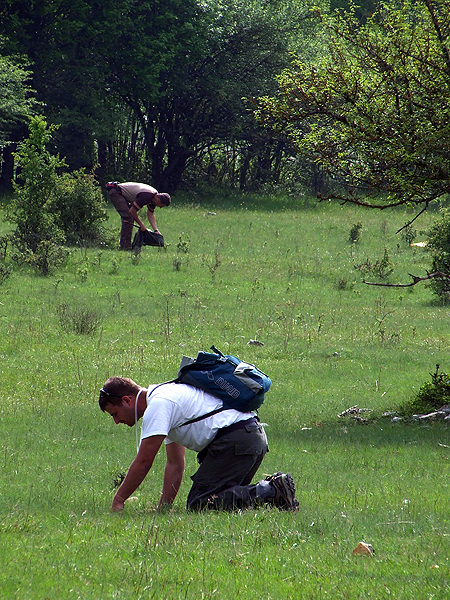 Next stop at a grazing area. The guys switched to Dorcadion-hunters' posture.
The results:
Dorcadion bilineatum
and
Dorcadion pseudolugubre
among the grass tussocks.
(photo of the last one by A. Kotán)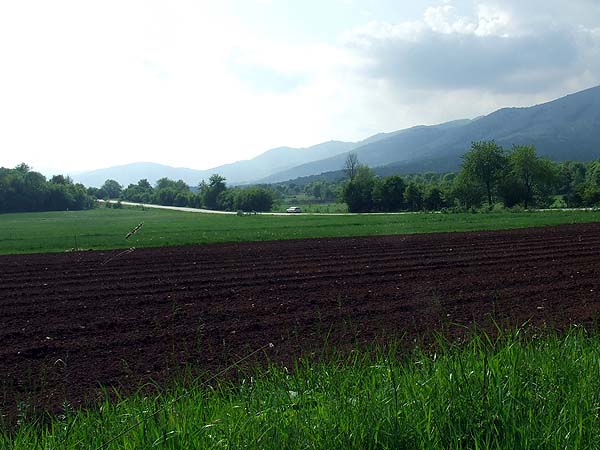 The landscape was similar to the Hungarian mountains.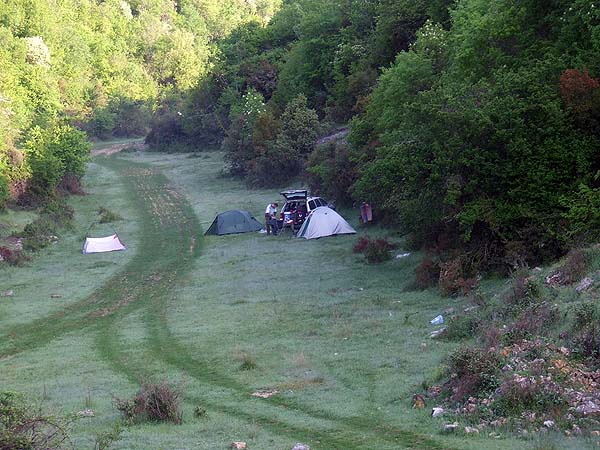 Campsite for this night.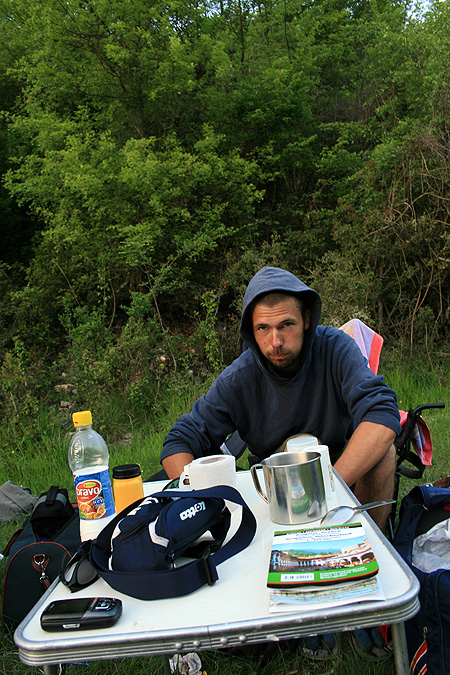 (photo: A. Kotán)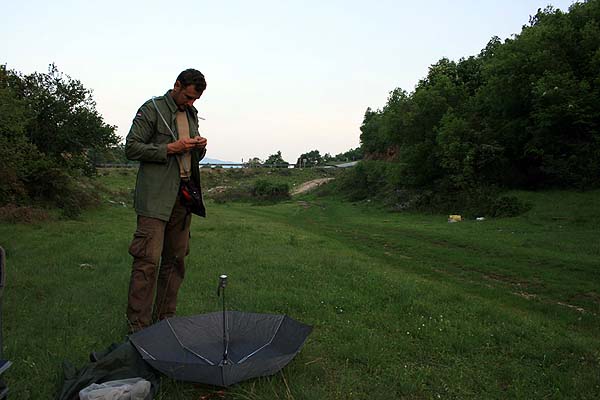 (photo: A. Kotán)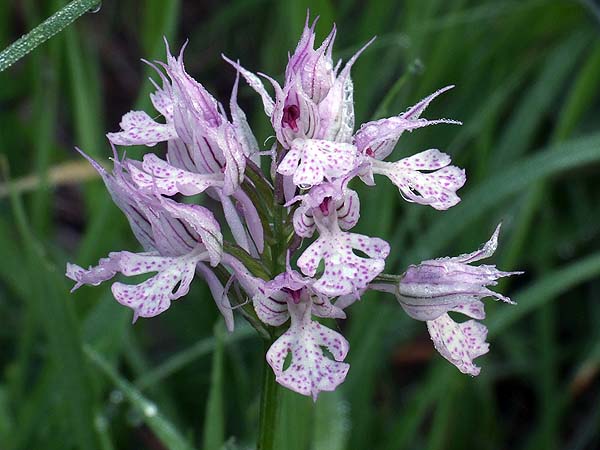 Three-toothed orchid (
Orchis tridentata
).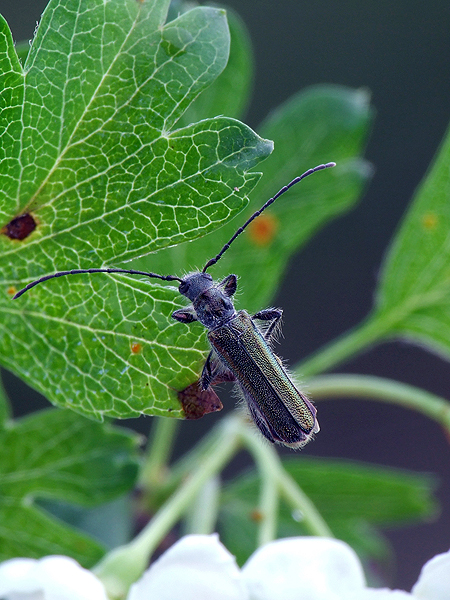 On blossoming hawthorn longhorns (
Callimellum angulatum
) were feeding.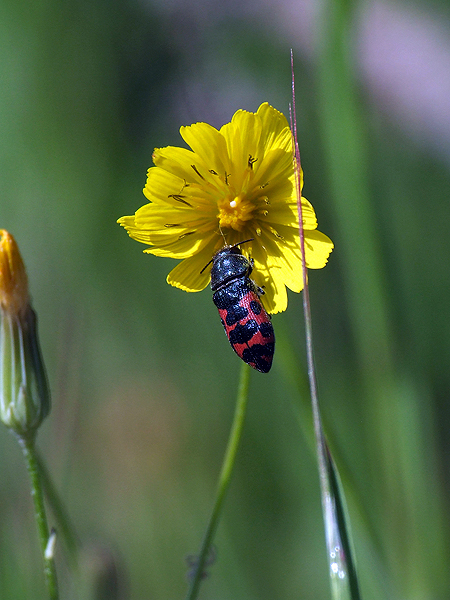 In the morning jewel beetles (
Acmaeoderella ottomana
) were active on yellow flowers.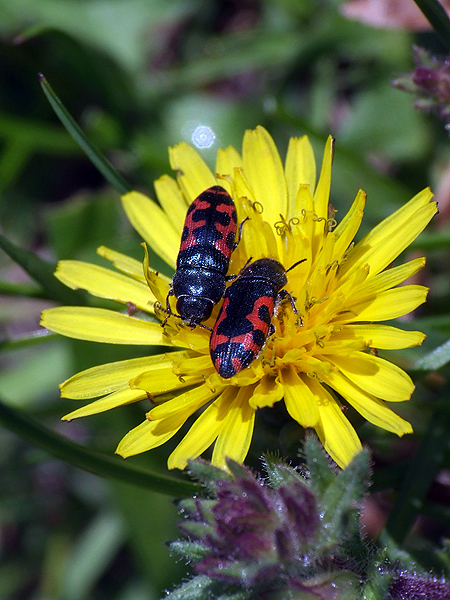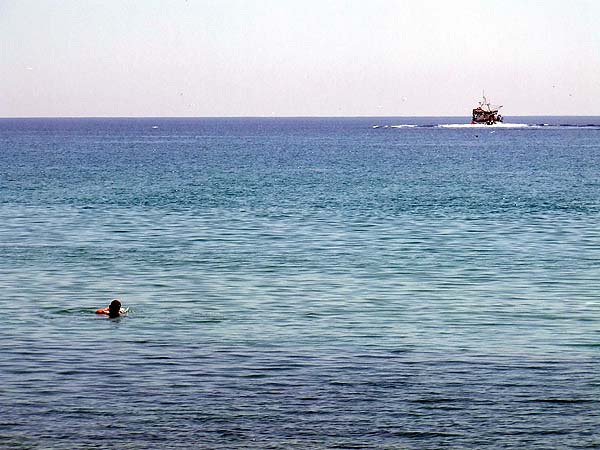 On the way to the Chalkidiki peninsula we stopped for a quick dip.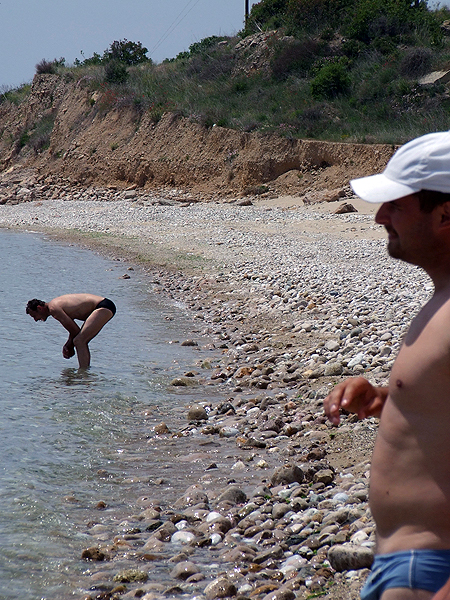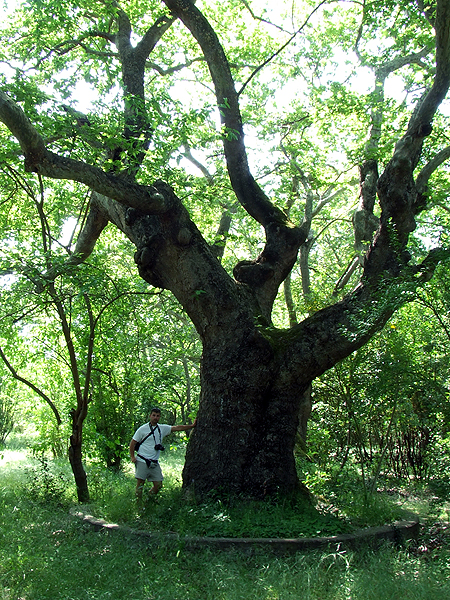 In Asprovalta we found these huge planes, and the nearby grove provided us nice catch.
Beach at the nearby campsite. (photo: A. Kotán)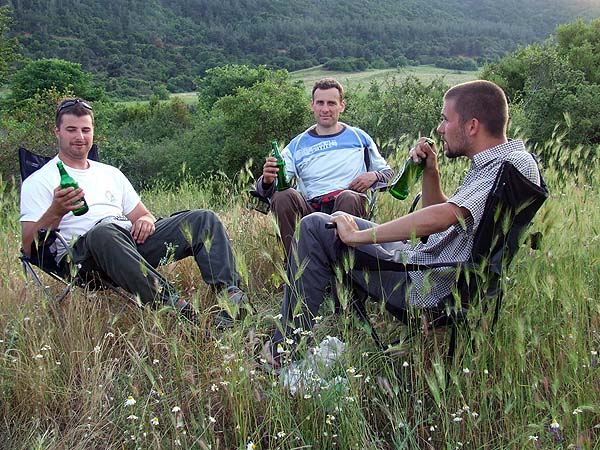 Nice campsite at Volvi Lake.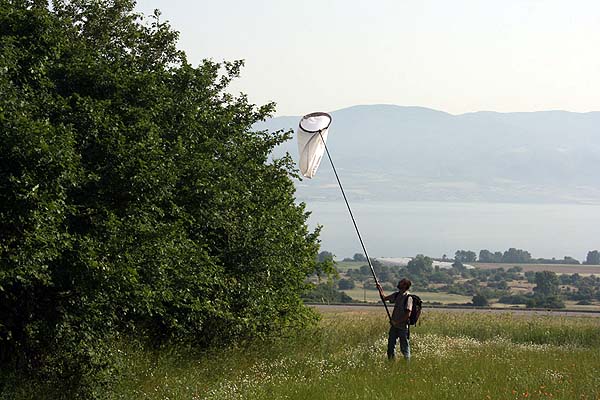 We spent the morning with collecting here. (photo: A. Kotán)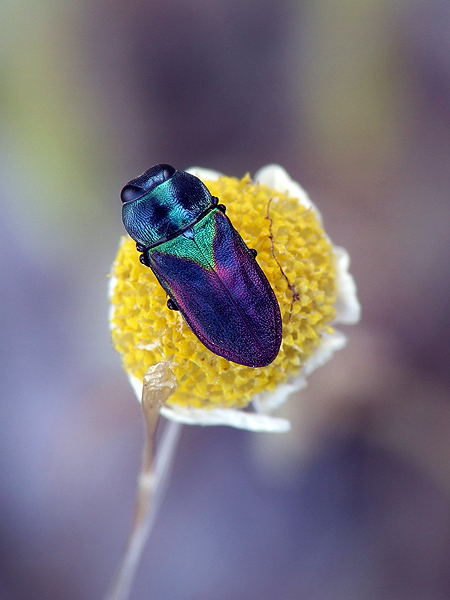 The most common jewel beetle in our trip:
Anthaxia bicolor.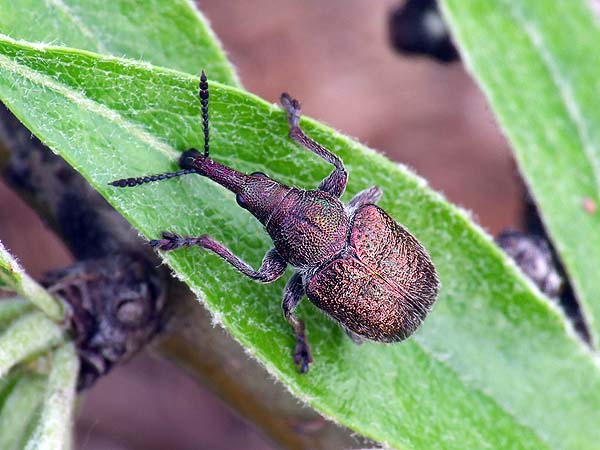 Several interesting beetles were beaten from wild pear:
Rhynchites giganteus.
Checkered beetle:
Tillus pallidipennis.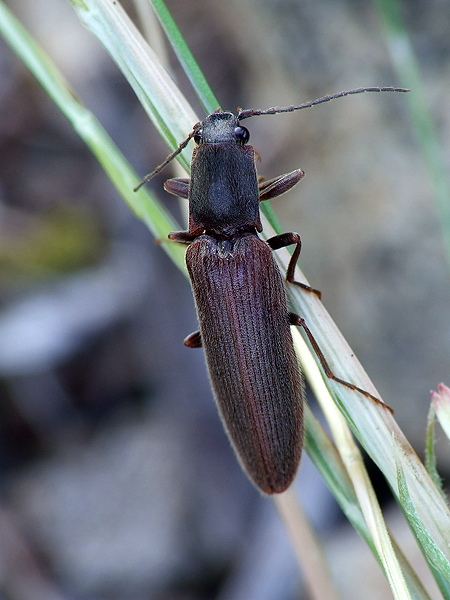 Athous prothoracicus
. (det. Josef Mertlik)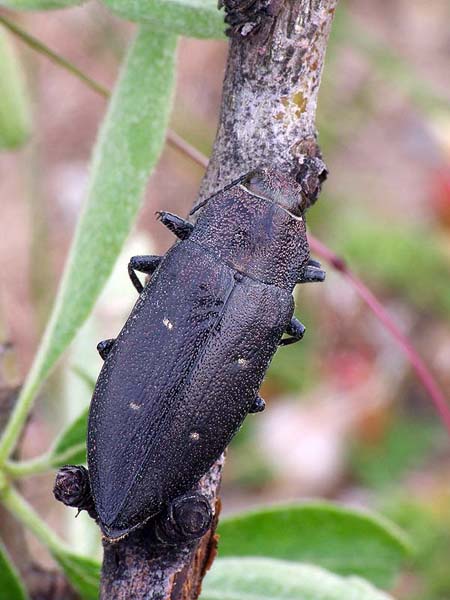 Jewel beetle:
Chalcophorella stigmatica
.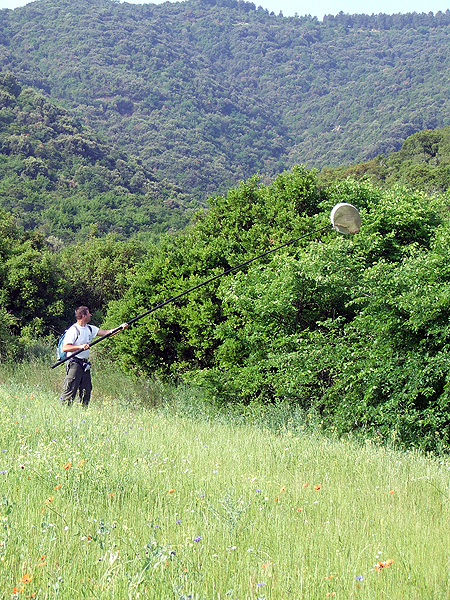 Canopy netting.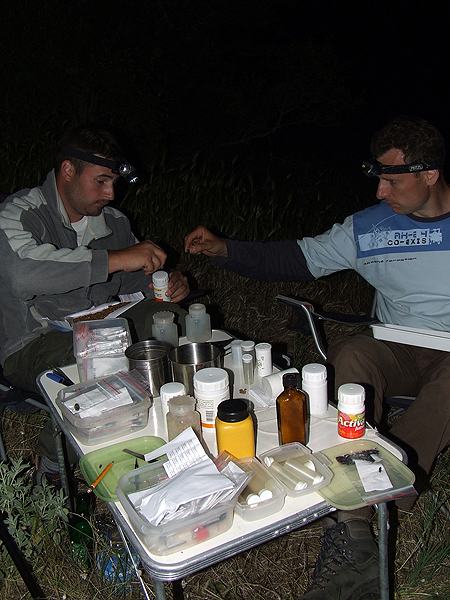 Program for the night.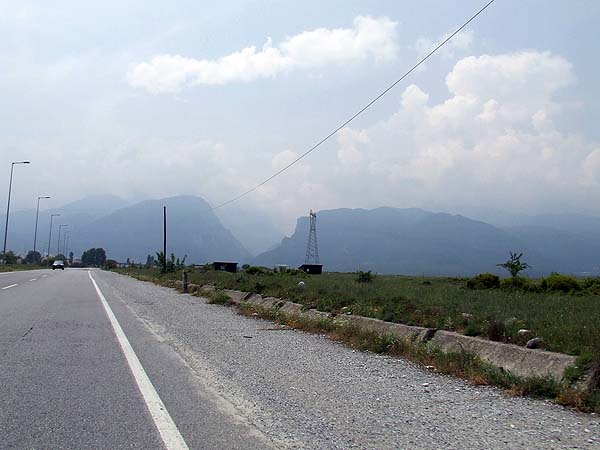 We reached the Olympus Mountain very soon, thanks for the motorway.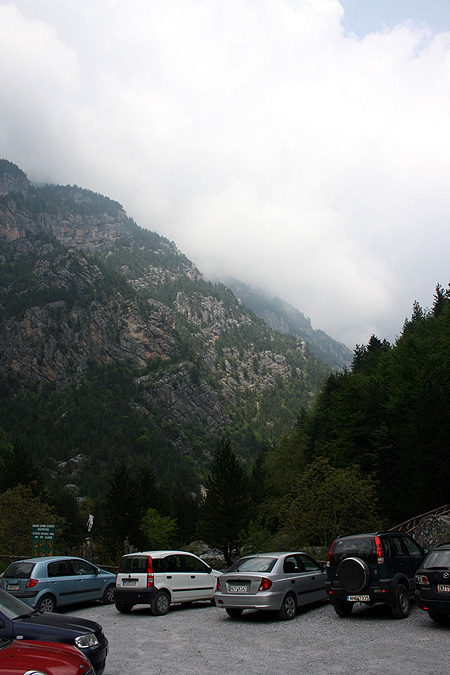 First stop: Prionia. A long serpentine started with a crossing gate.Rangers inquired about the aim
of our visit, and registered our personal data. We saw big signs, which informed us that camping,
insect collecting and damaging the nature are prohibited.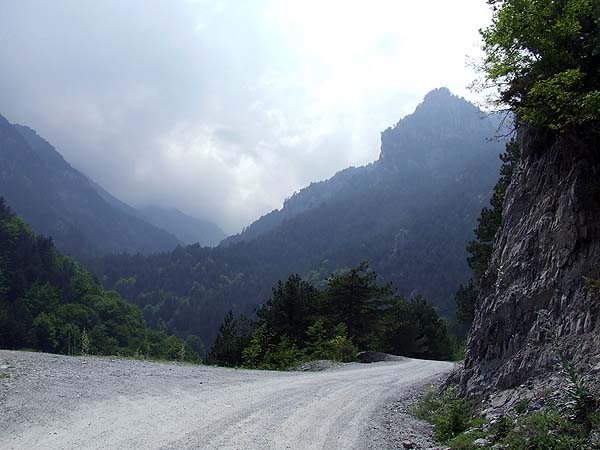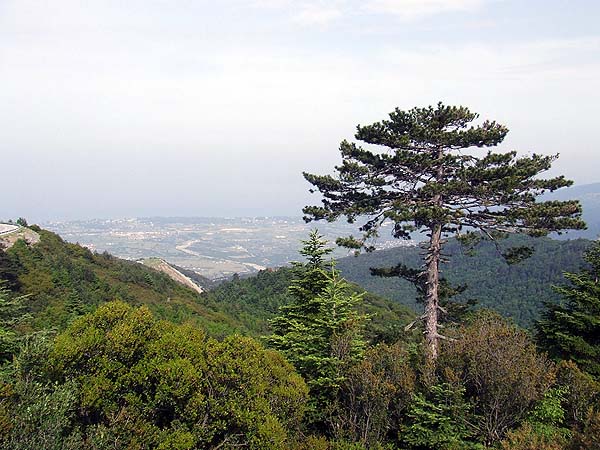 In the lack of local information we could not find many good collecting sites, but the landscape was truly spectacular.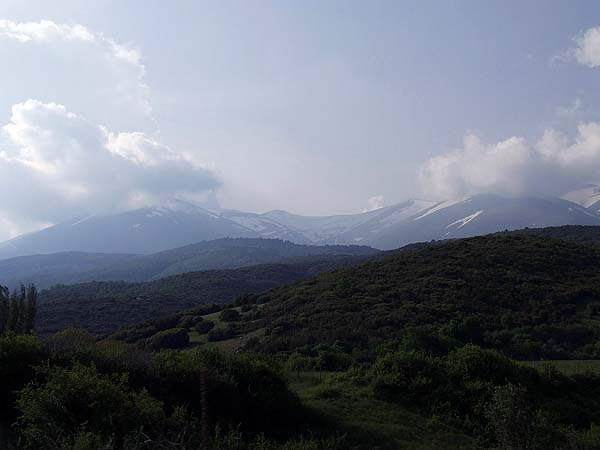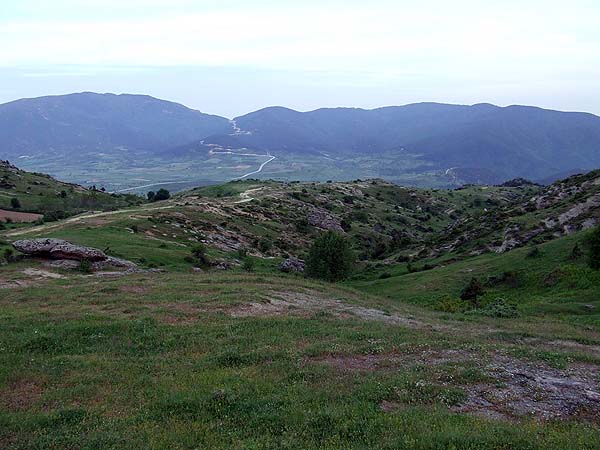 After the all-day-long drive we were bundled off from the our first place by a pack of herding dogs.
The next site suitable for camping was found at 1100 m.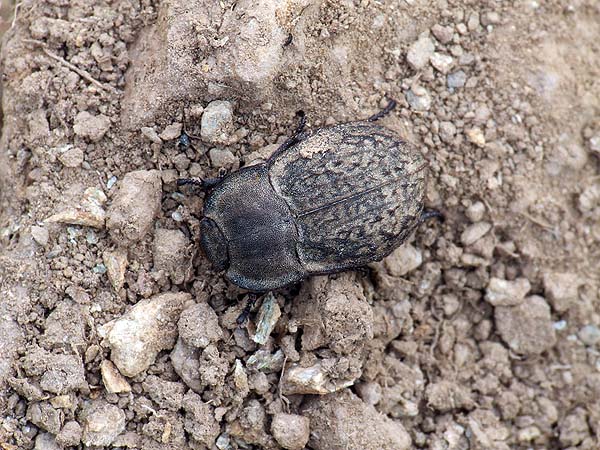 Darkling beetles were hiding under stones:
Asida fairmairei fairmairei.
(det. O. Merkl)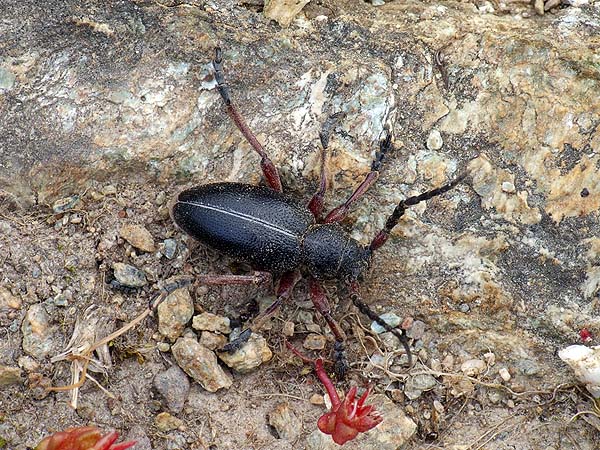 Dorcadion albosuturale
.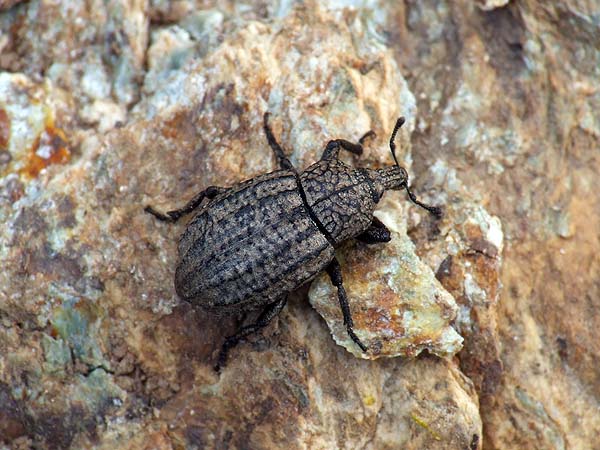 Strangely shaped weevils:
Minyops lacunosus
(det. A. Podlussány)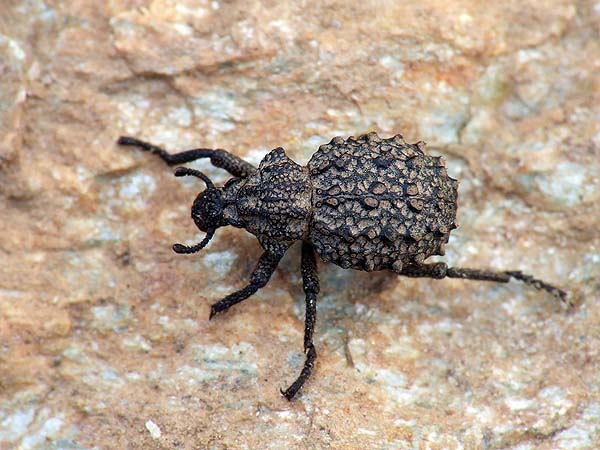 Brachycerus lutosus
(det. A. Podlussány)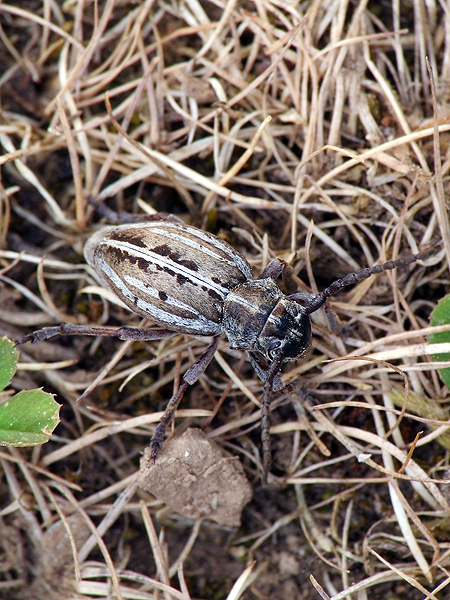 On the paths trodden by cows we found
Dorcadion krueperi
among the grass tussocks.
Unfortunately most of them were damaged by the hard hooves.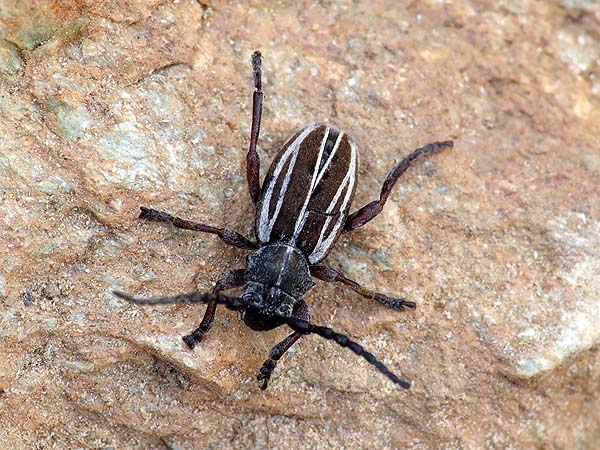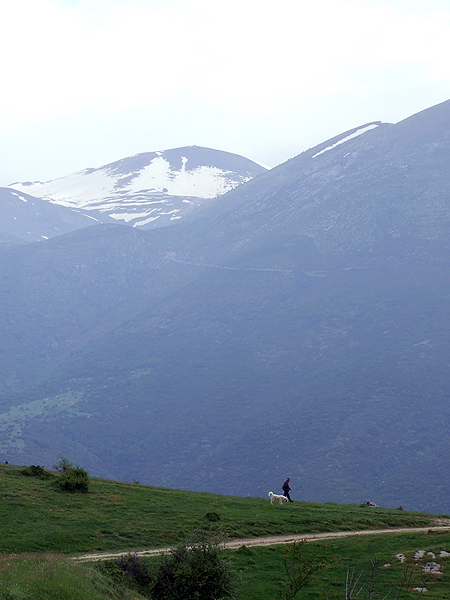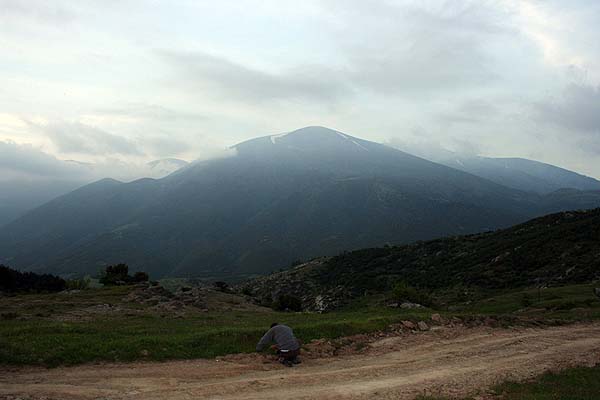 AAndris could not stop colllecting, he was searching for longhorns until darkness. (photo: A. Kotán)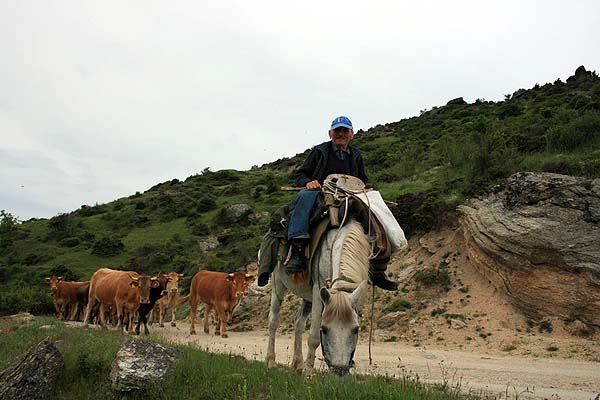 This local cowboy posed pridefully with his livestock for Attila's camera. (photo: A. Kotán)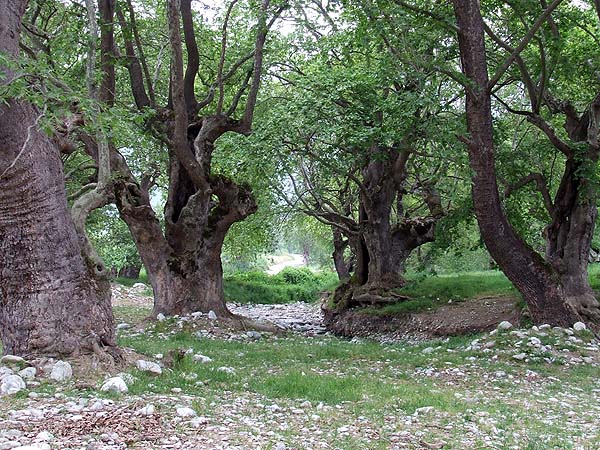 Old plane groove on 700 m above sea level.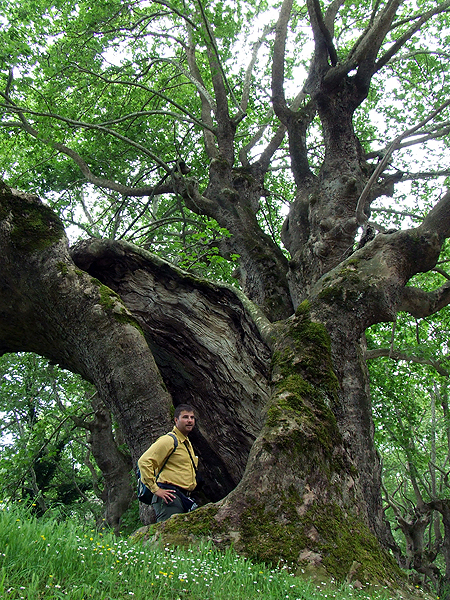 These old trees are true Methuselahs.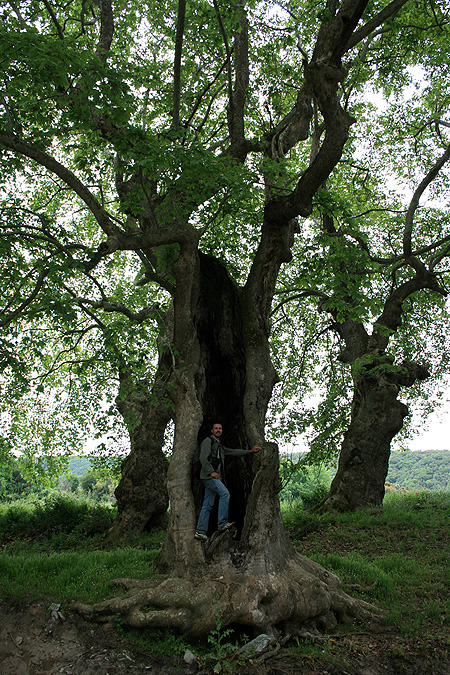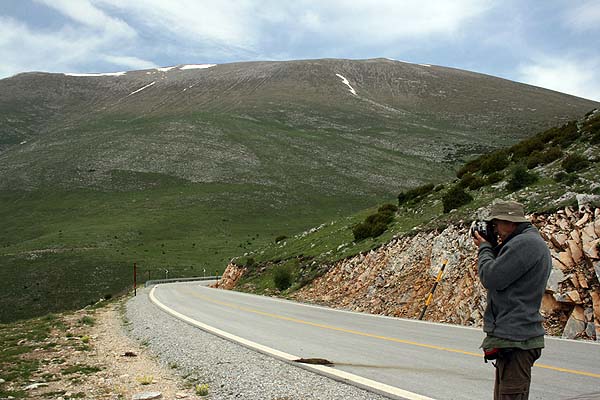 From this valley we ascended up to 1700 meters.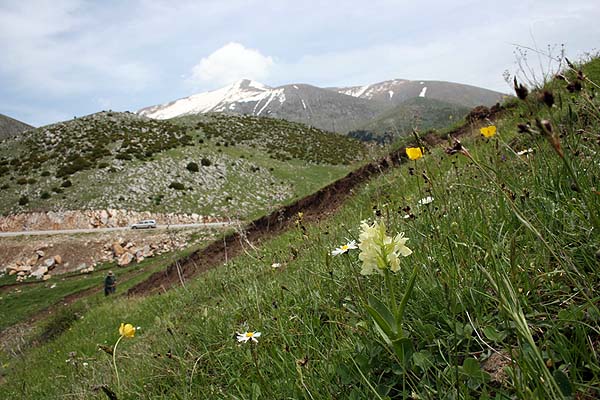 The mountain tops were still snowy.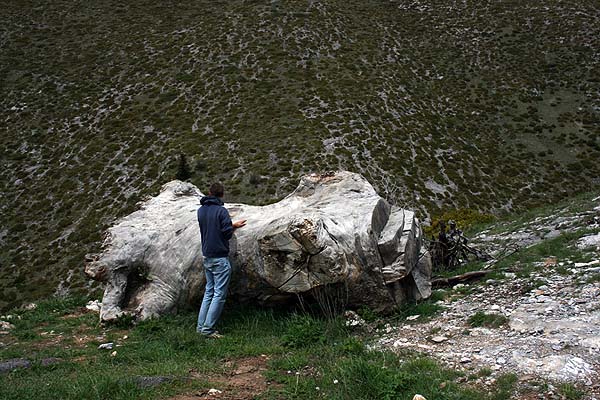 Mammoth log at the entrance of a ski center. (photo: A. Kotán)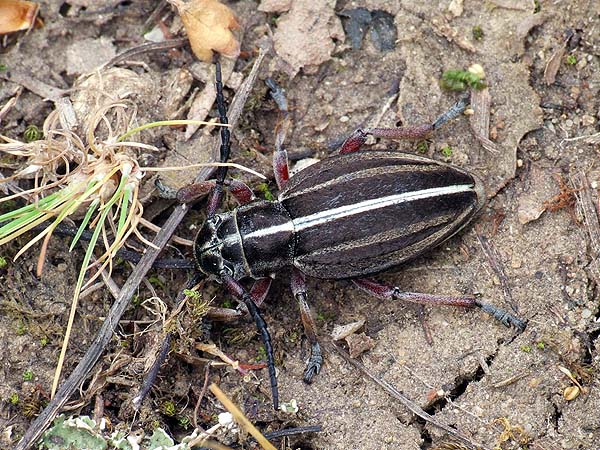 This walnut-sized longhorn is a female of
Dorcadion albosuturale.
The female of this species has two forms: one is similar to the male while the other has stripes like this one.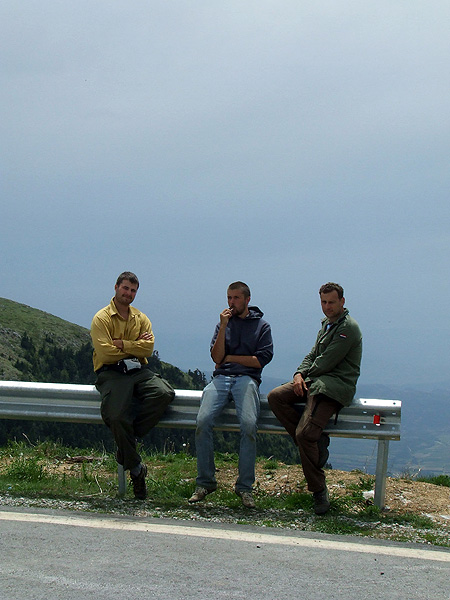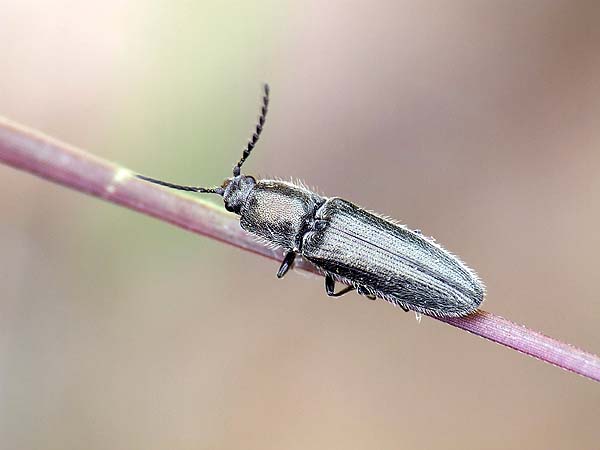 In higher levels we met only some common species, tiger beetles, blister beetles and this click beetle (
Limonius minutus
) which lives in Hungary as well.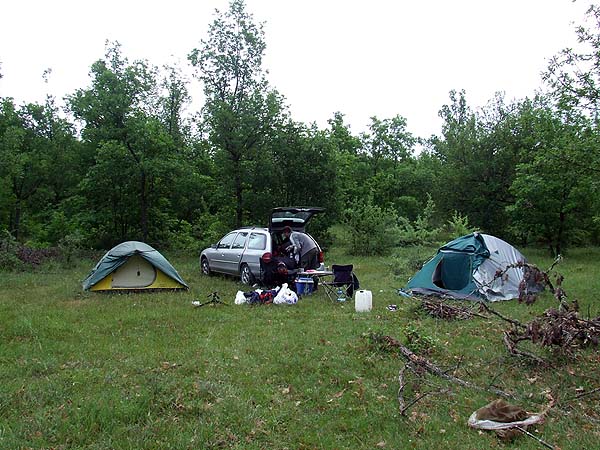 Our next camp-site in a small oak forest, in the Hasia Mountains.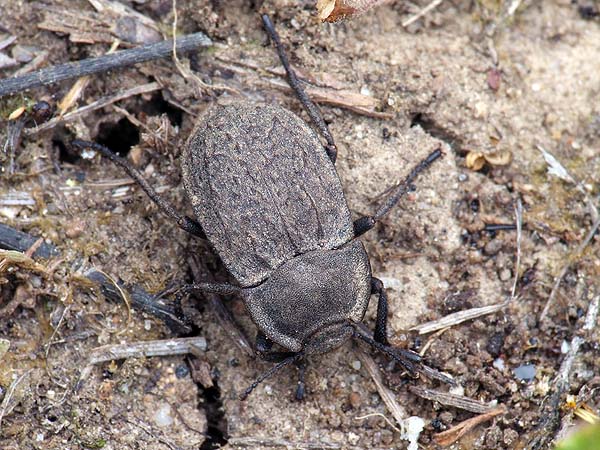 Andris made me happy with another darkling beetle:
Asida cocquempoti
(det. O. Merkl)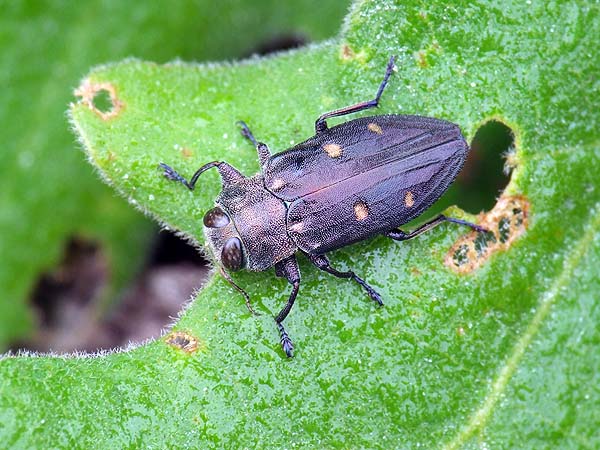 Jewel beetles (
Chrysobothris affinis
) were just emerging from a dead oak tree.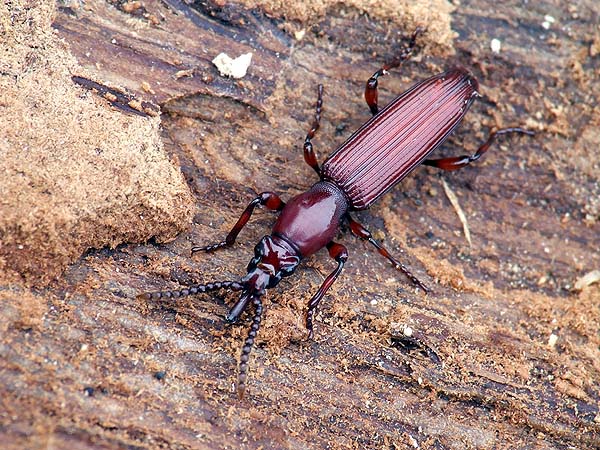 This straight-snouted weevil (
Amorphocephala coronata
) was hiding under bark of oak. (det. A. Podlussány)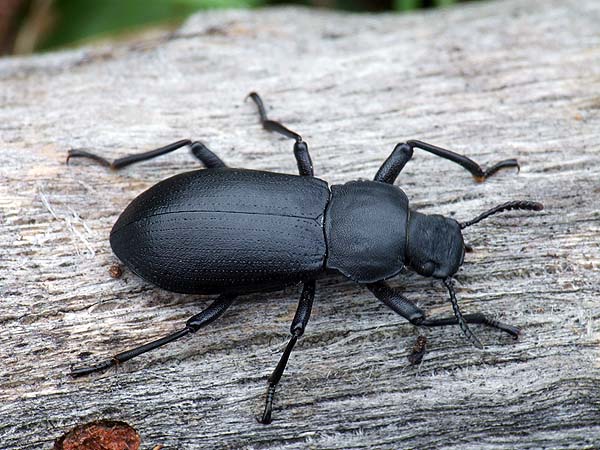 This darkling beetle (
Iphthiminus croaticus italicus
) was hiding under bark of oak as well.
I really wanted to catch this species..(det. O. Merkl)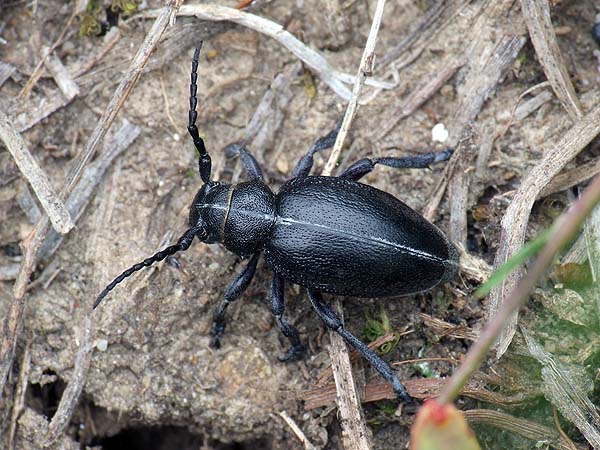 Dorcadion salonicum
.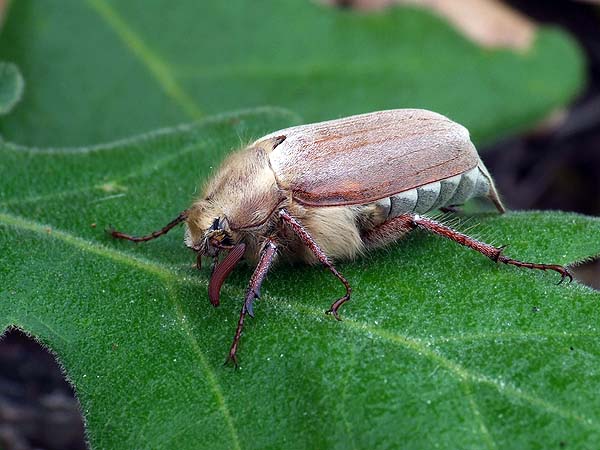 Our UV light-trap attracted this may beetle:
Melolontha albida
. (det. L. Nádai)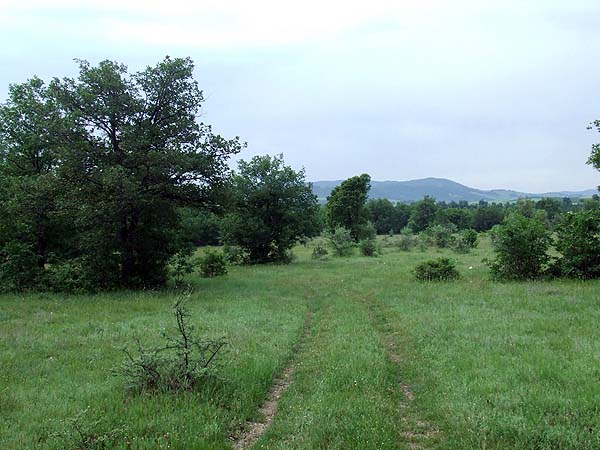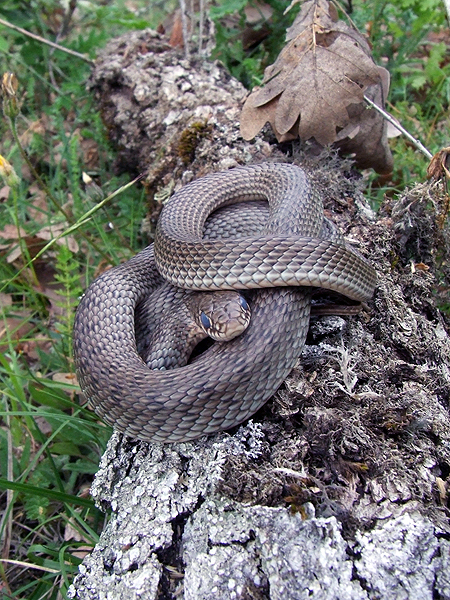 Balkan Whip Snake (
Hierophis gemonensis
).
We visited the nearby plane grove at the riverside.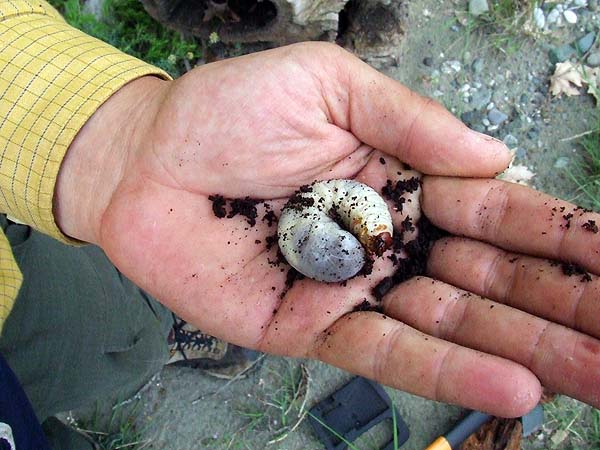 Platánodvakban remetebogár (
Osmoderma eremita
) lárváit és bábjait találtuk.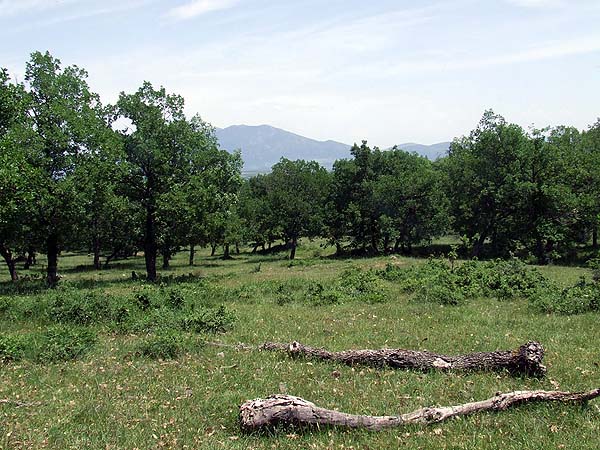 Next day we collected around the village of Anixi.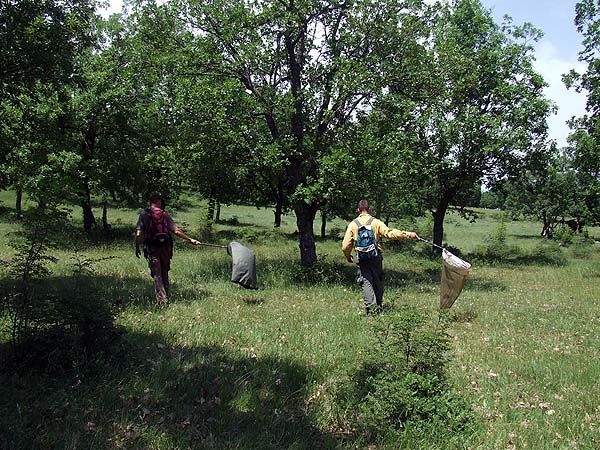 We were searching for a recently described longhorn species which occurs only in this area.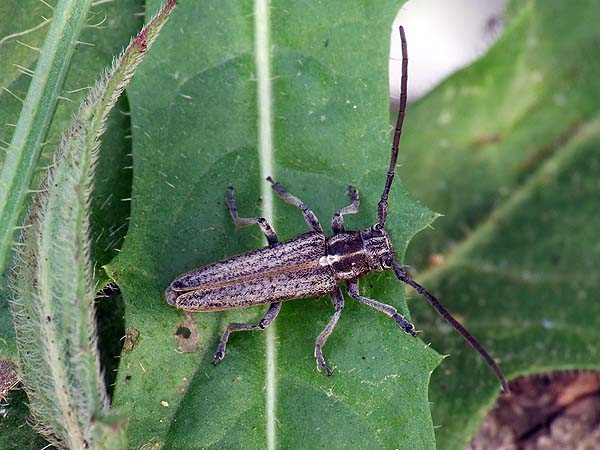 After a long search we came upon the first individuals, and when we found the host plant of this species, it was an easy task to reach our aim.
Phytoecia nausicae
.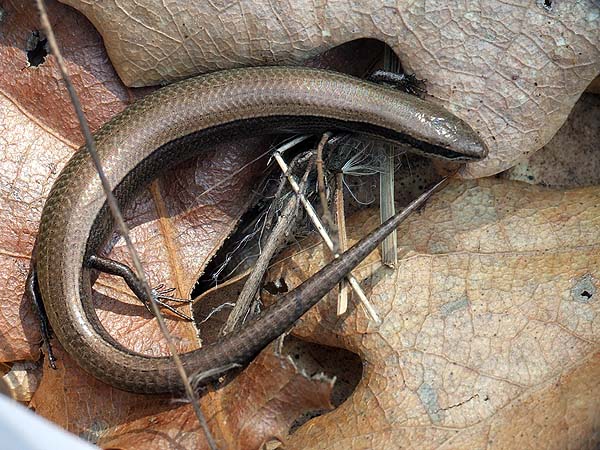 European copper skinks (
Ablepharus kitaibelii
) were running about on the less densely vegetated parts.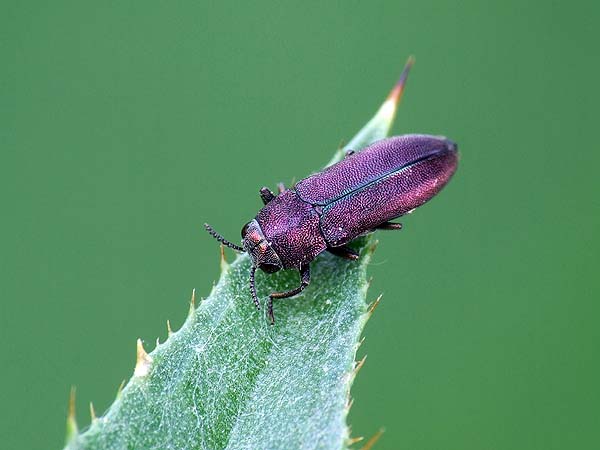 A handsome jewel beetle
(Meliboeus episcopalis)
was netted from thistles.
(det. N. Rahmé)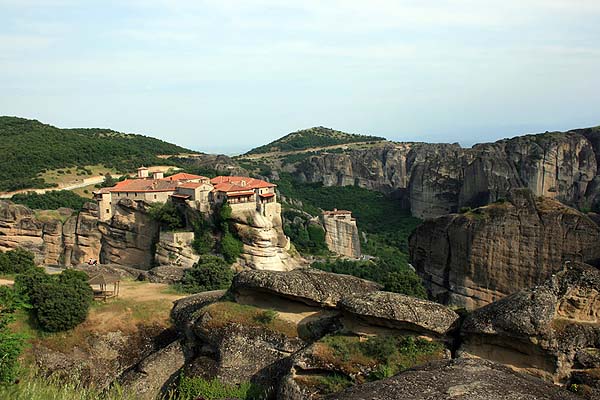 Our road led to the famous monasteries built on top of the Meteoras.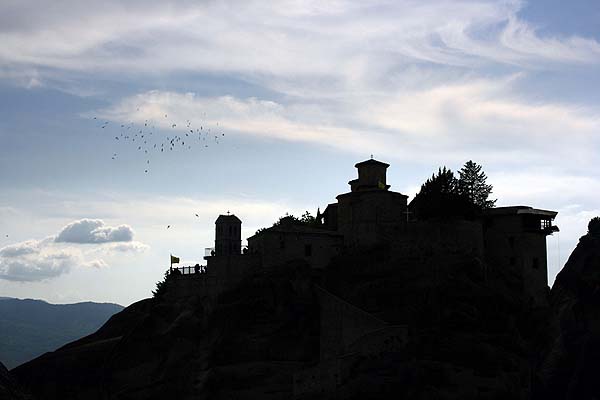 (photo: A. Kotán)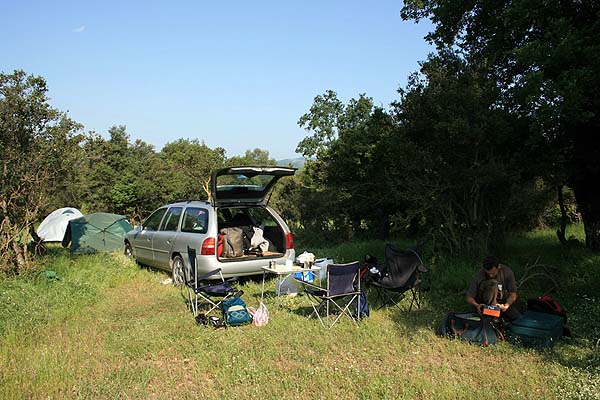 Not far from here we found a fantastic place for pitching a camp. In the bushy area many insects were seen, and the nearby stream offered an opportunity for bathing.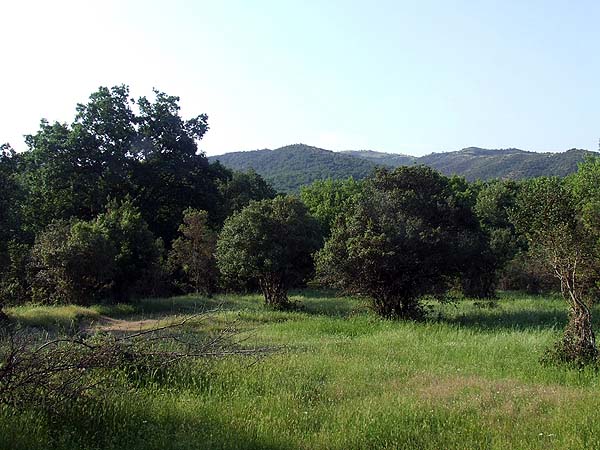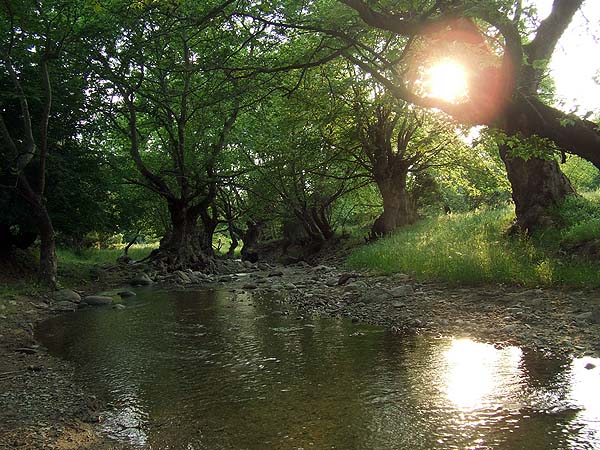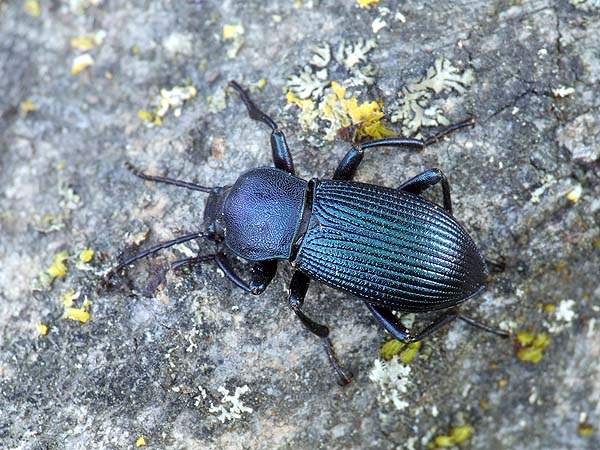 Several darkling beetle species were caught on the trunk of hollow planes at night.
Helops rossii.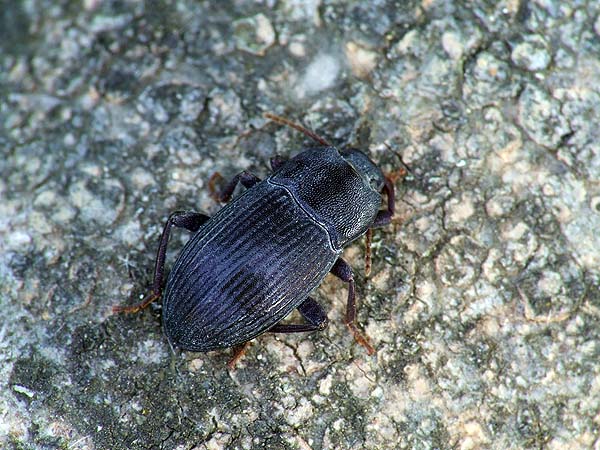 Colpotus pectoralis
(det. O. Merkl)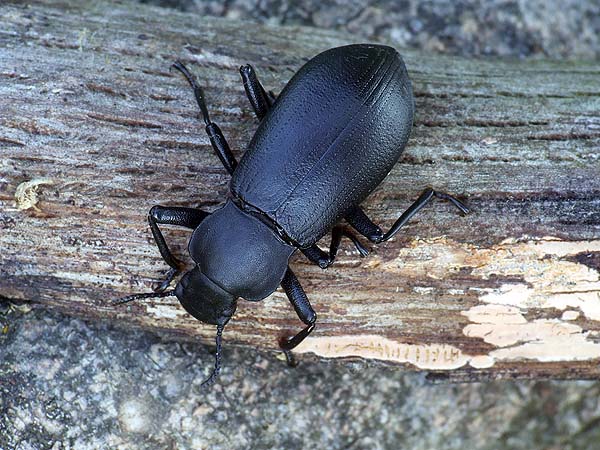 Iphthiminus croaticus italicus

.
(det. O. Merkl)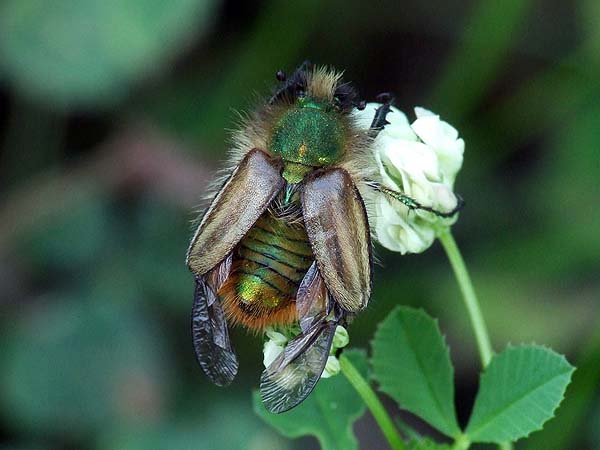 Agile glaphyrid beetles (
Eulasia pareyssei)
were swarming on clover.
(det. L. Nádai)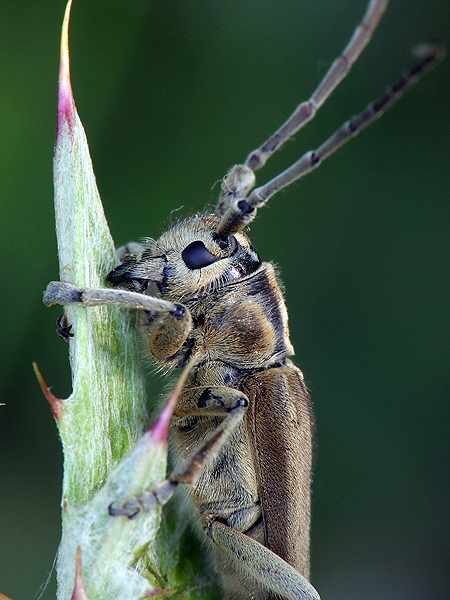 Beetles from thistles
:
Helladia flavescens.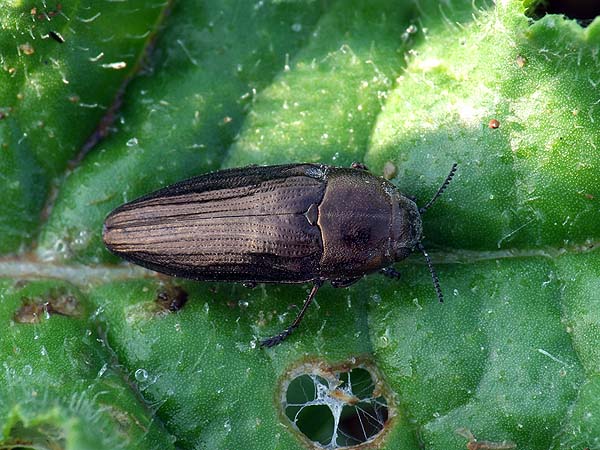 Sphenoptera

sp.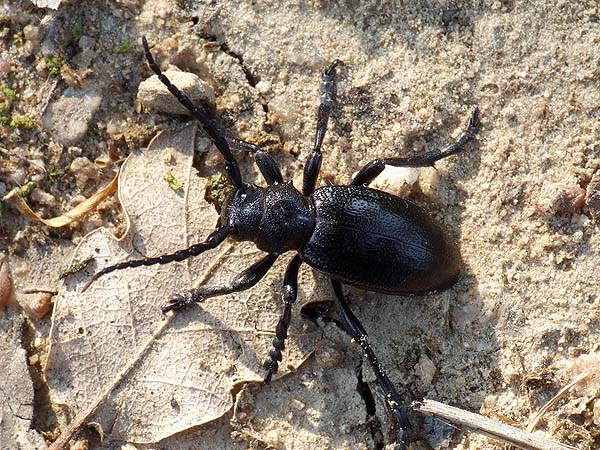 Dorcadion meteorum

.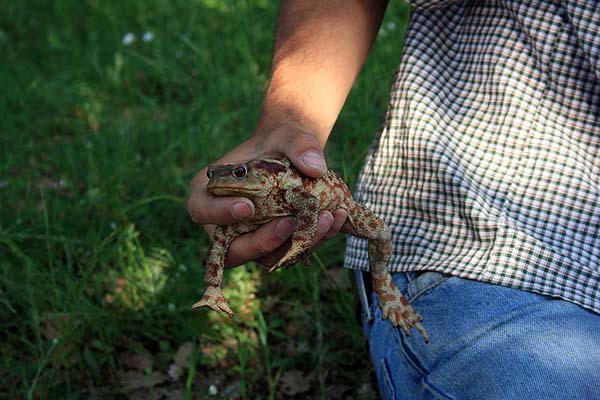 Huge common toad twinkling from a hollow plane (
Bufo bufo
). (photo: A. Kotán)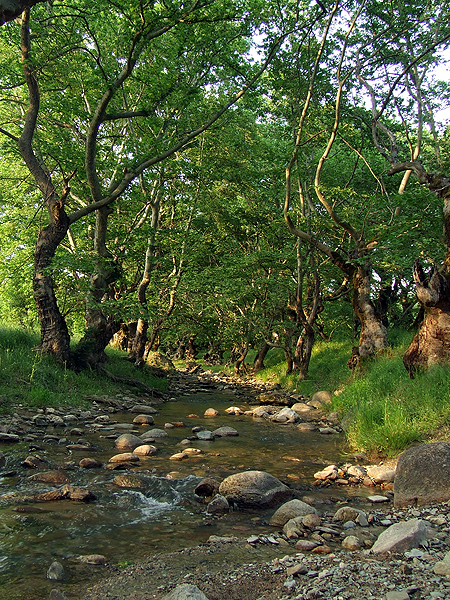 We said goodbye to Greece here…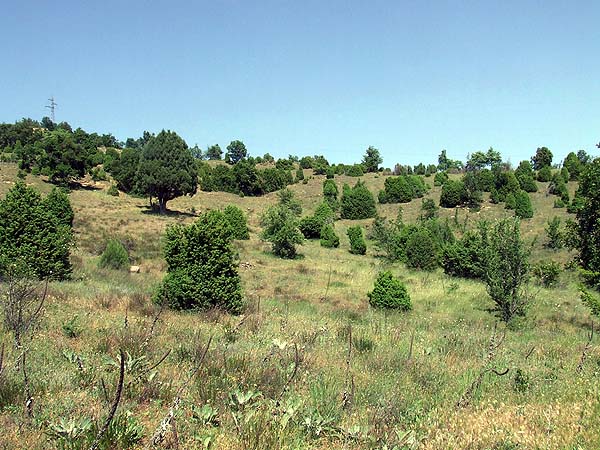 Southern Bulgaria, Kresna.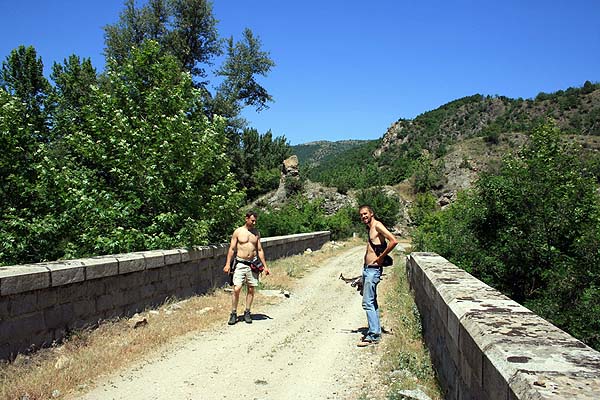 We spent a day here to augment our material. (photo: A. Kotán)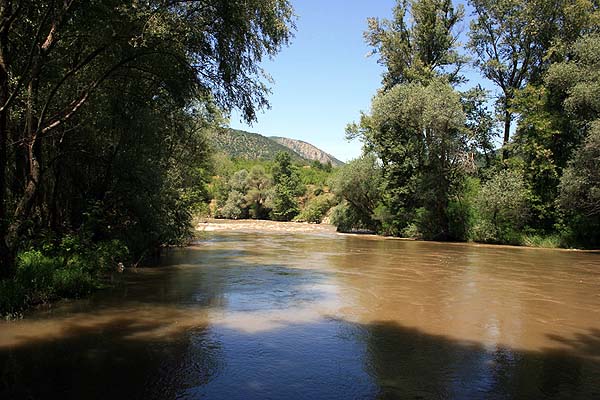 The river was flooding.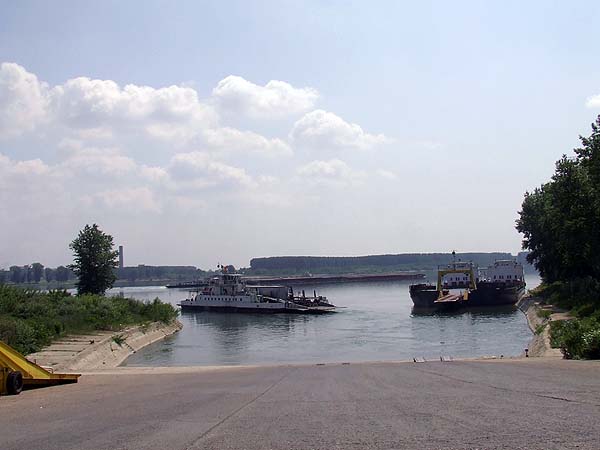 The Bulgarian-Romanian border at Vidin.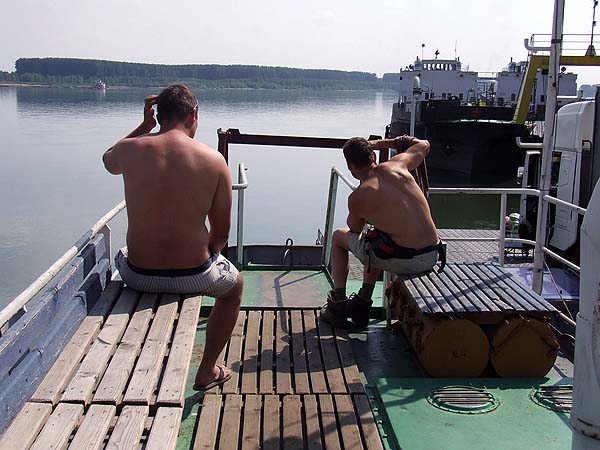 Crossing the border with ferry.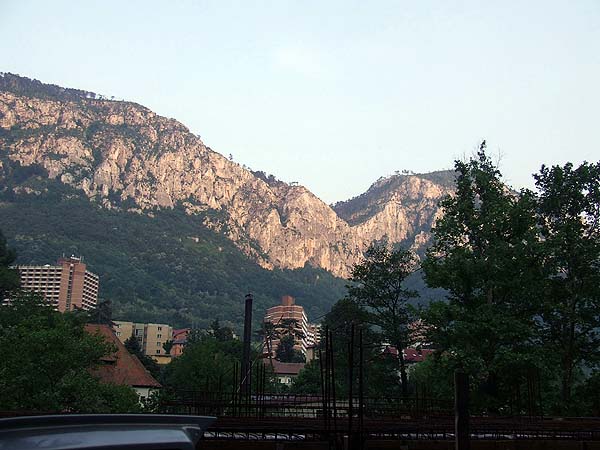 After a 12 hours travel we finally arrived at Baile Herculane.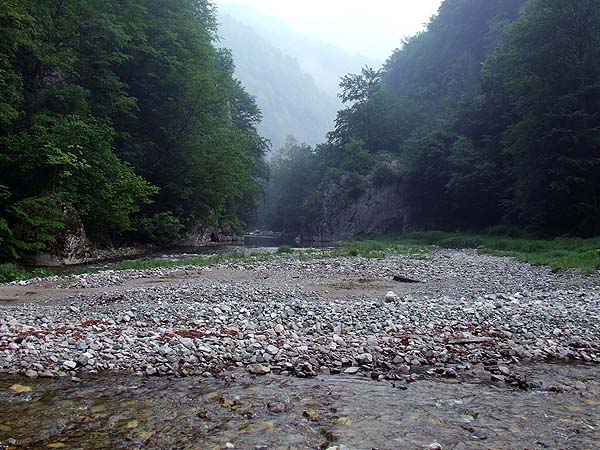 Morning in the valley of Cerna River.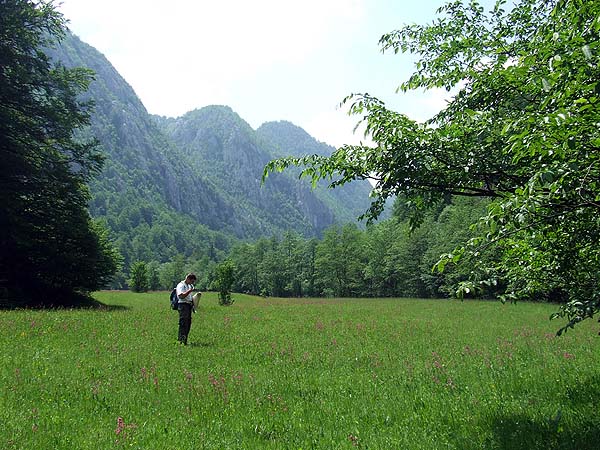 Morning mist was quickly dried up by the sunshine.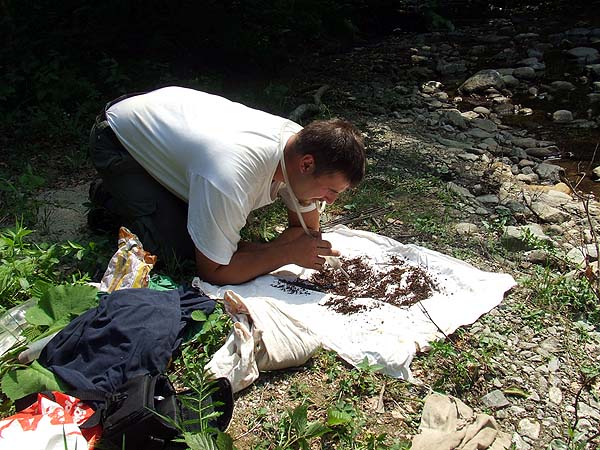 Sieving and extracting.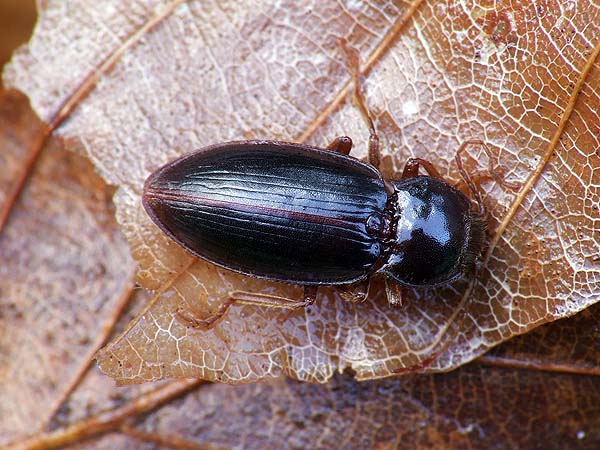 Dima elateroides
- a special click-beetle.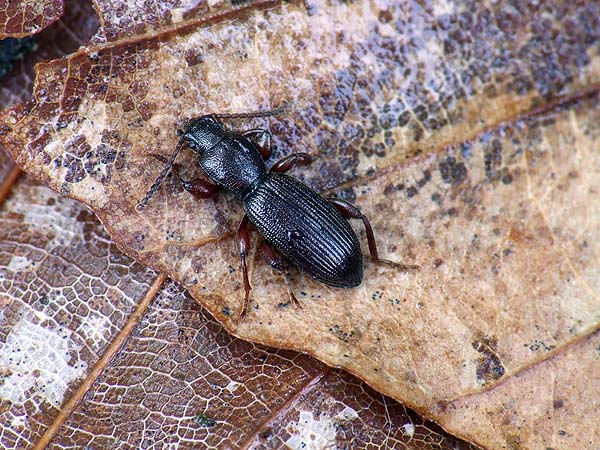 And a special darkling beetle:
Laena hopffgarteni.
Hemicrepidius niger.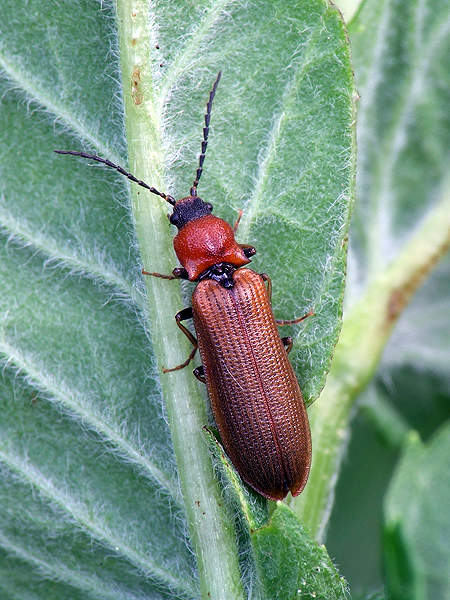 Denticollis linearis.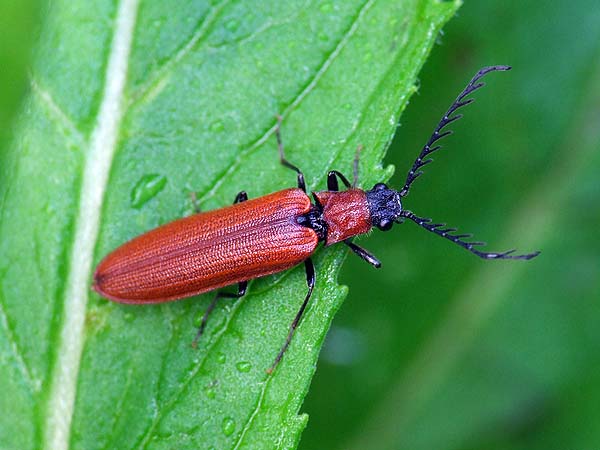 Denticollis rubens.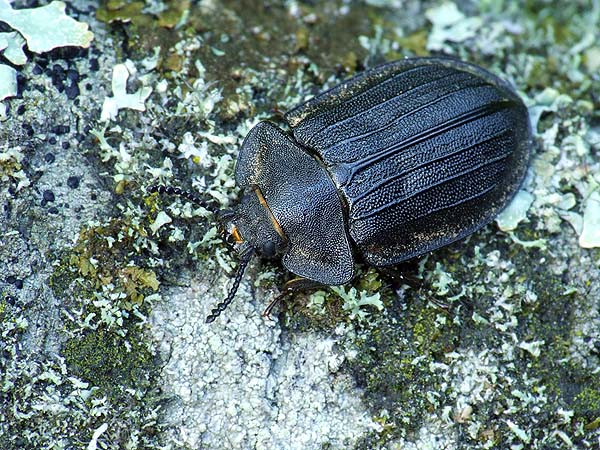 Peltis grossa.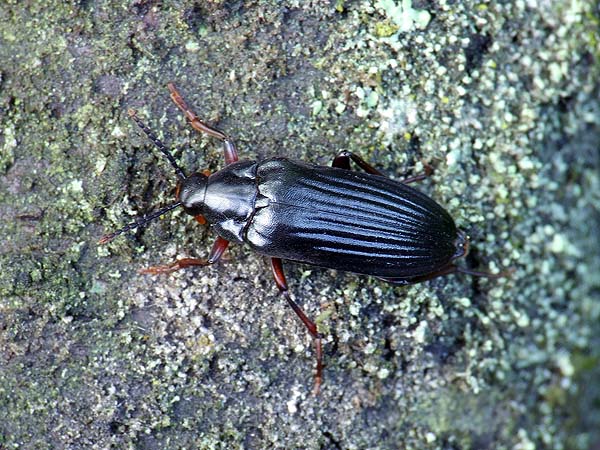 Melandrya caraboides.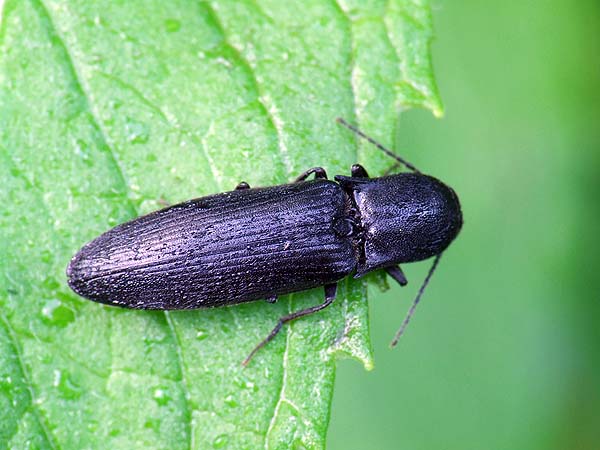 Ectinus aterrimus.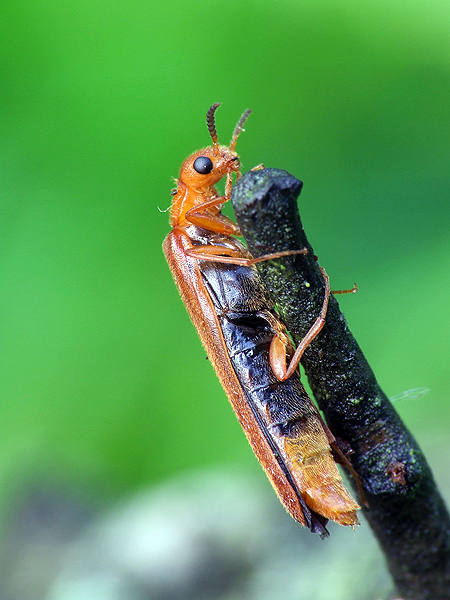 Elateroides dermestodes.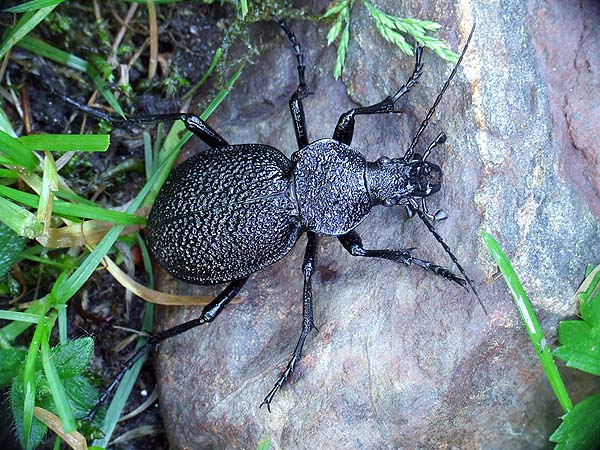 The giant ground beetle (
Procerus gigas
) came around because of the last rainy night.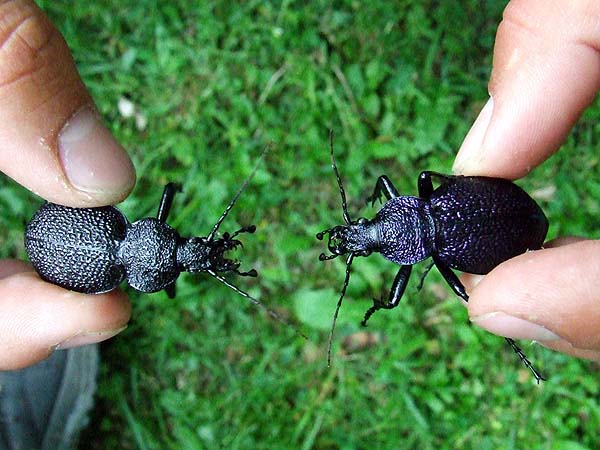 Its relative we caught in Greece was still alive, so both of them could appear on this picture.
A rare longhorn from hazelnut stump:
Saphanus piceus.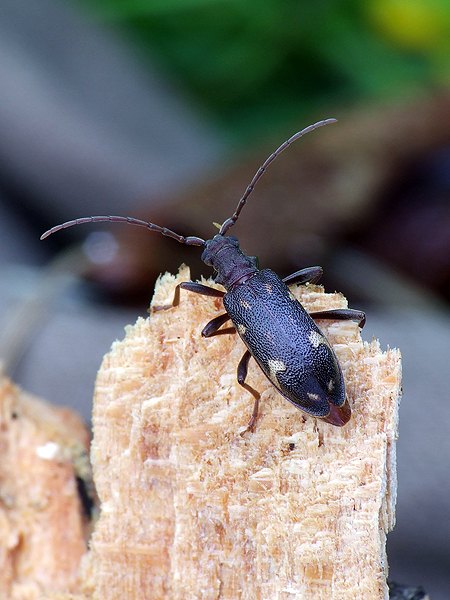 A rarer longhorn from beech stump:
Xylosteus spinolae.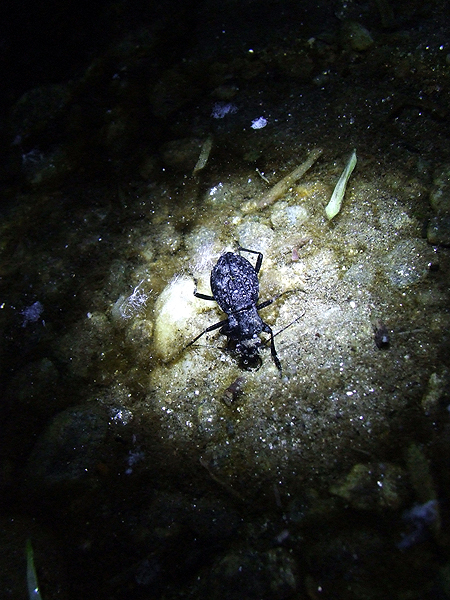 Carabus nodulosus
waiting for prey on the bottom of a small pool.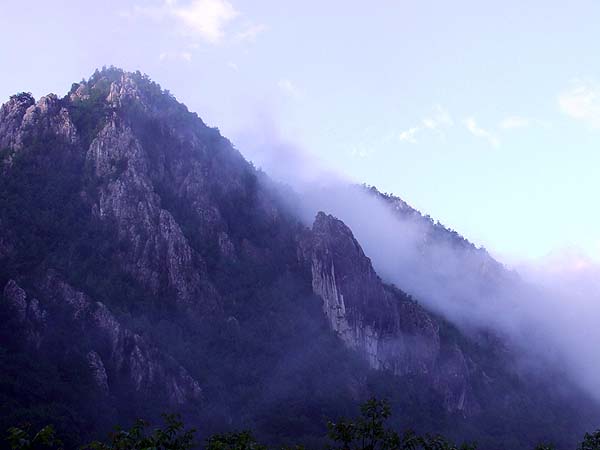 At dawn clouds touched the tops of the mountains.
Cleaning the tent.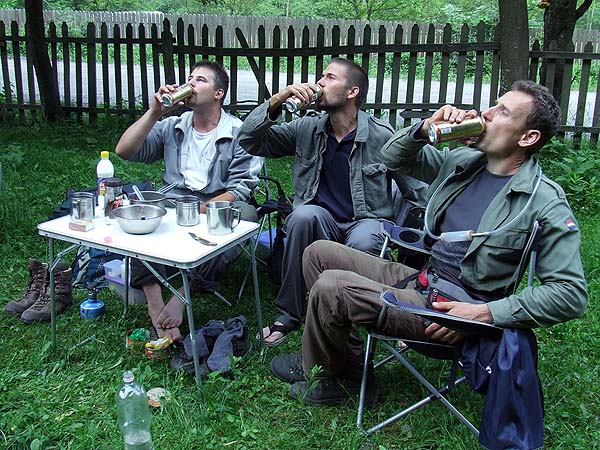 Our boxes and memory cards of our cameras were full of beetles and pictures, so it was time to relax.
Thanks Bulgaria, Romania and Greece.