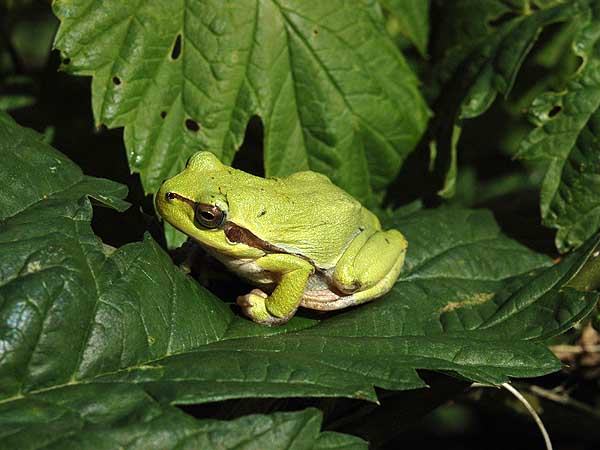 European Tree Frog (Hyla arborea).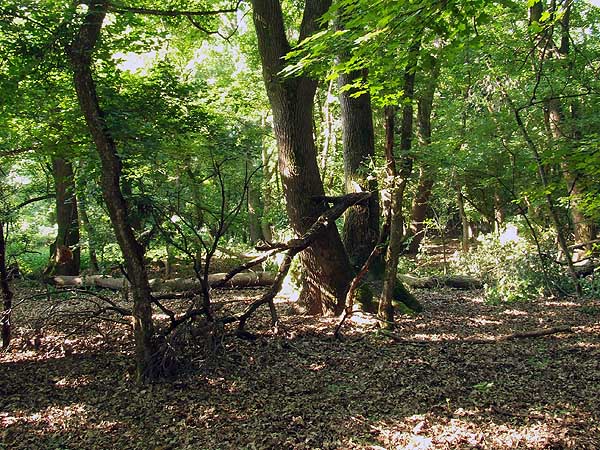 A group of ancient oak and maple trees is found in the hard-wood floodplain forest in the backwater area of Tőserdő.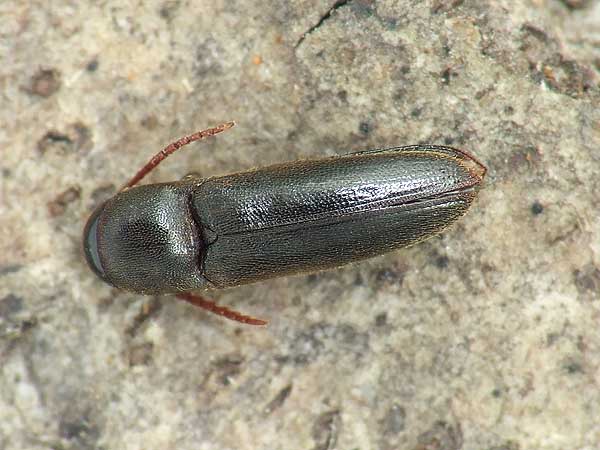 Some specimens of Dirrhagofarsus attenuatus (Mäklin, 1845) were collected with the help of a vehicle-mounted net during a collecting trip in June. Dirrhagofarsus attenuatus is a rare, short-lived beetle that has recently been recorded from only a few sites in Hungary (e.g. Gödöllő Hills and Szigetköz).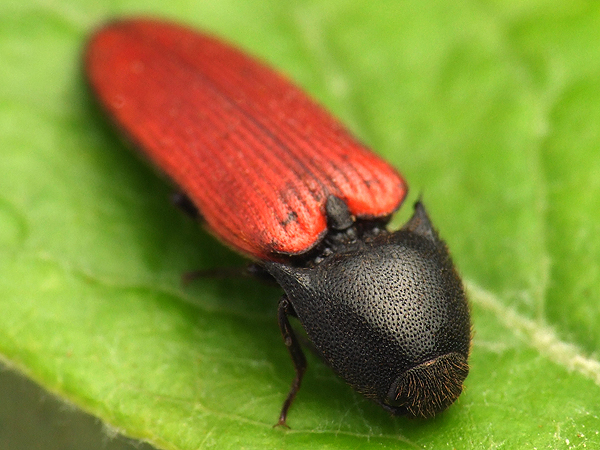 A vast number of Ampedus cardinalis (Schiödte, 1865) preferring old forests was collected during its swarming period in April. Within the Great Plain, this species was recorded only twice in Debrecen long ago and once in Gyula in 2008. In the Danube–Tisza Interfluve it is only known from Tiszaalpár. Ampedus sanguinolentus (Schrank, 1776) and Ampedus pomonae (Stephens, 1830) (see figure) were also present in large numbers under the loose bark of dead trees.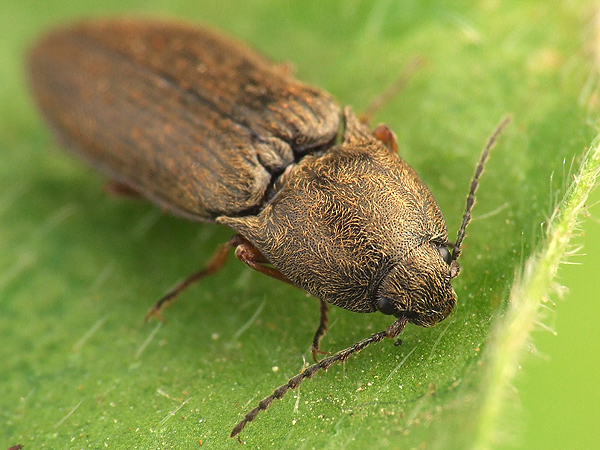 Swarming specimens of Paraphotistus nigricornis (Panzer, 1799) preferring wet habitats were knocked from elm trees in the wet areas of the floodplain forest.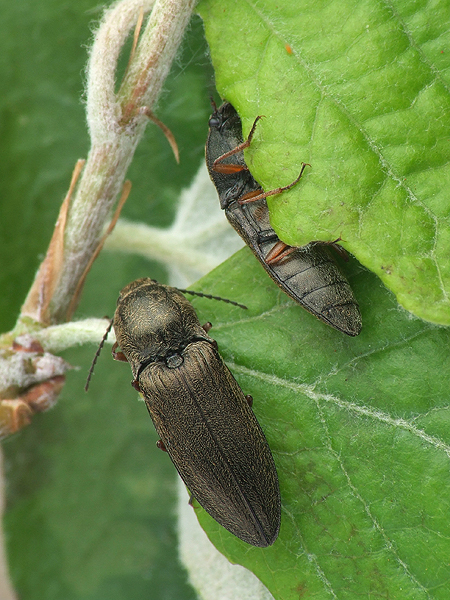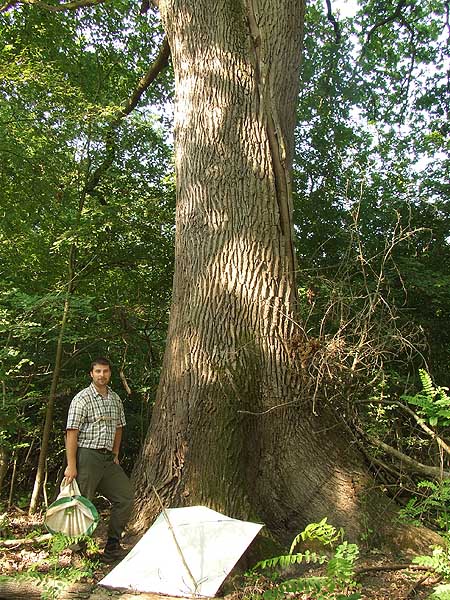 The largest oak of the forest, and maybe of the whole area, was found in June.
This English oak has a girth of 583 cm.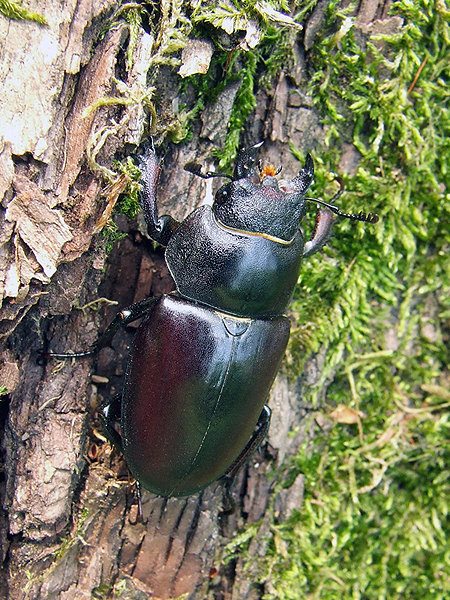 The protected Greater Stag Beetle, Lucanus cervus (Linnaeus, 1758)
is found on the trunk of large oaks.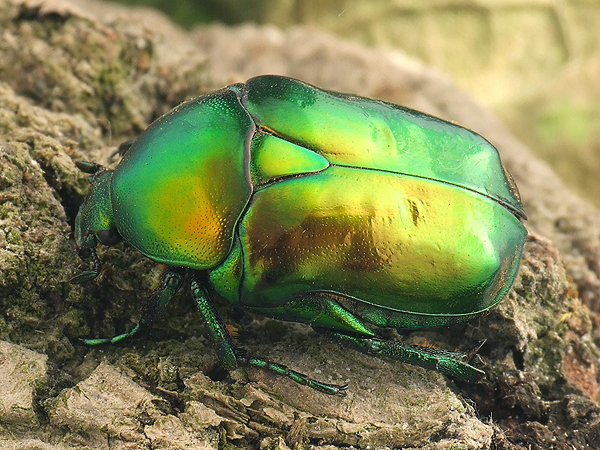 The protected Great Rose Chafer Protaetia aeruginosa (Drury, 1770) is usually
flitting around in the high canopy of trees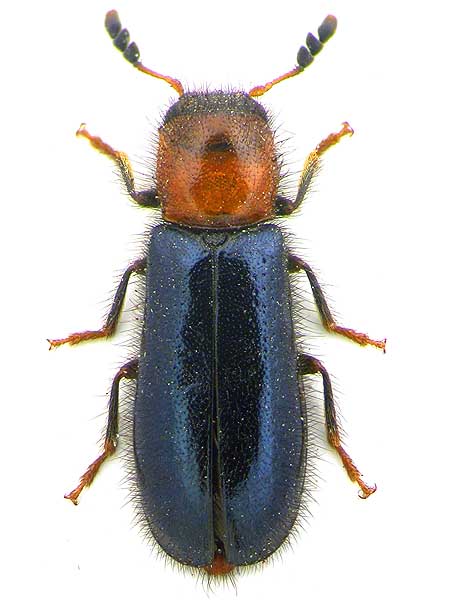 Finding the remains of
Dermestoides sanguinicollis
(Fabricius, 1787), a species of checkered beetles that is on the brink of extinction in most countries, was a really big deal. This beetle is found on old, barkless oaks where it preys on wood-boring beetles and their larvae.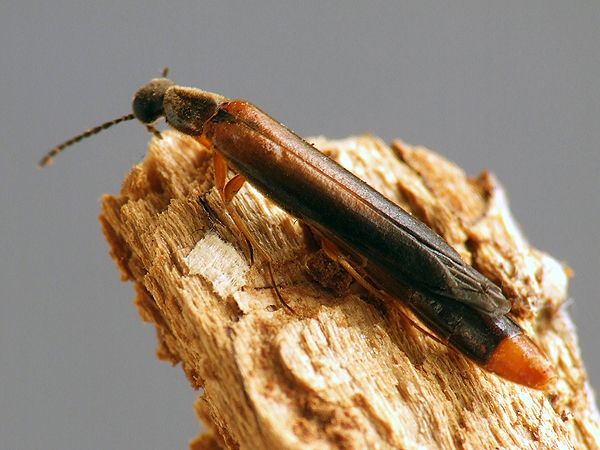 Lymexylon navale

(Linnaeus, 1758) also called timber-destroyer is a rare, odd-looking, soft-bodied beetle also preferring old, barkless oak trees. This species is known from only a few sites mainly because as adult it lives for only a short time and does not feed. Therefore it is really challenging to find one. Its larvae are predated by the above-mentioned Dermestoides sanguinicollis.