My museologist colleague, Csaba Kutasi from Zirc invited me to the Bakony Mountains. He really wanted to prove the occurrence of
Limoniscus violaceus
, (P. W.. J. Müller, 1821), the violet click beetle from the Bakony Mountains, because nobody tried to find it there as yet. In the first half of March we travelled to Zánka, with two botanists and a forester colleague, who showed us some old forests, near the Lake Balaton.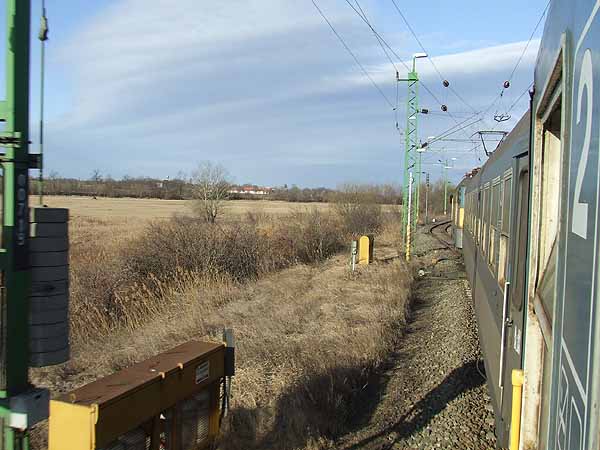 I took the early train to get there in time. The landscape was still grey and dried out.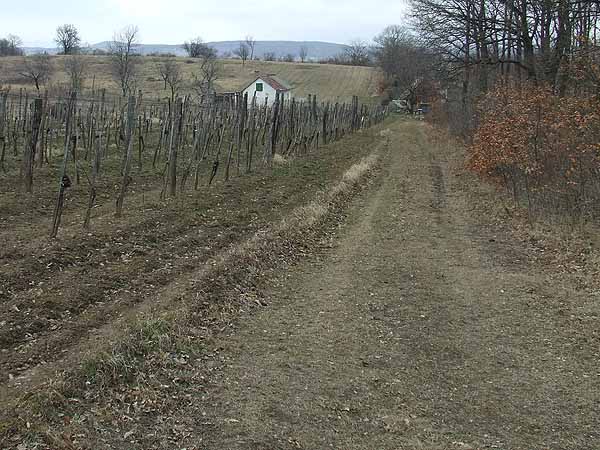 In Zánka, our road led through old orchards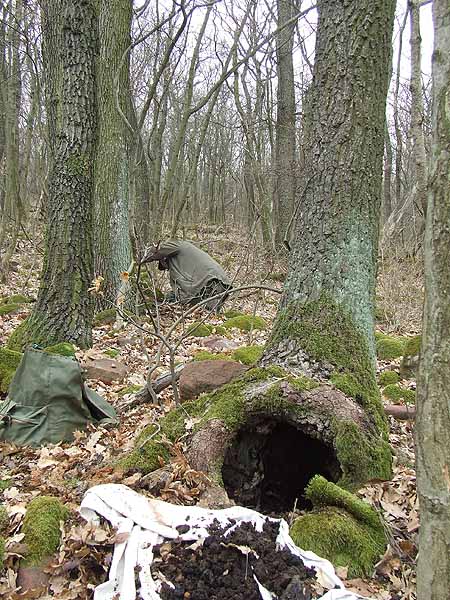 Dozens of nice cavities were examined during this cloudy day. Unfortunately we did not find the violet click beetle. However, several adults and larvae of
Ischnodes sanguinicollis
(Panzer, 1793) were found in hollow oaks.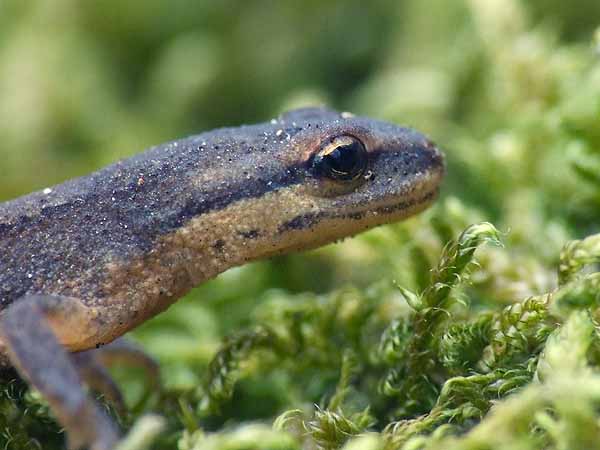 Smooth newt (
Triturus vulgaris
) found in leaf litter.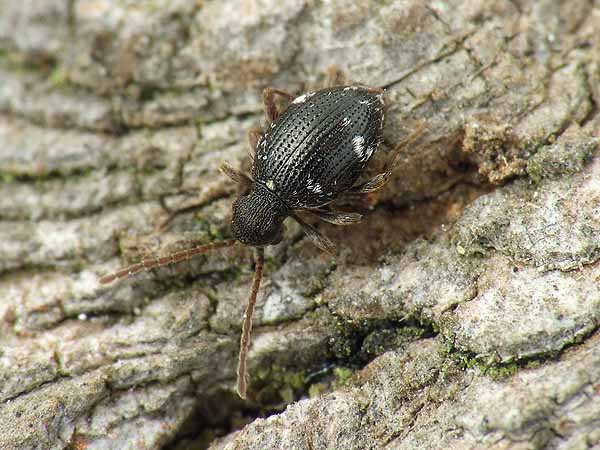 A nice spider beetle (
Ptinus capellae
Reitter, 1879) that occurs in Western Hungary.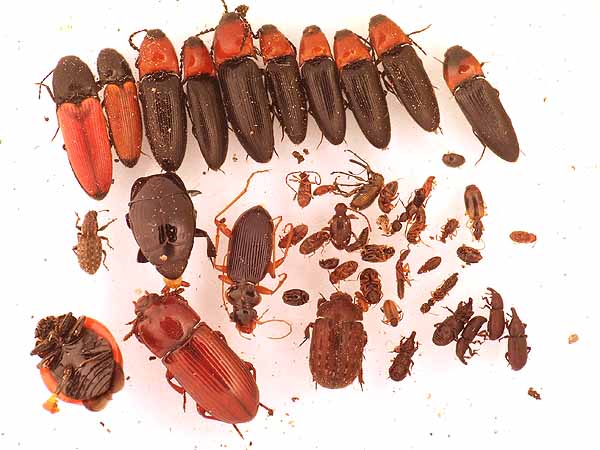 Beetles collected this day.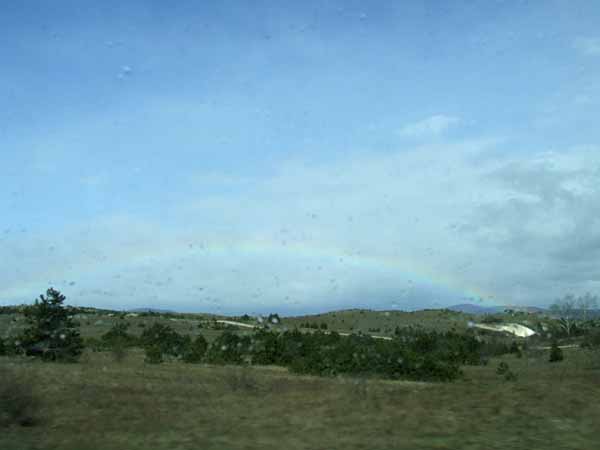 My next trip to the Balaton with my friend Attila and his girlfriend, Timi. We wanted to do spring-cleaning in Timi's grandparents house. The landscape was more friendly now, plants woke up after the long winter.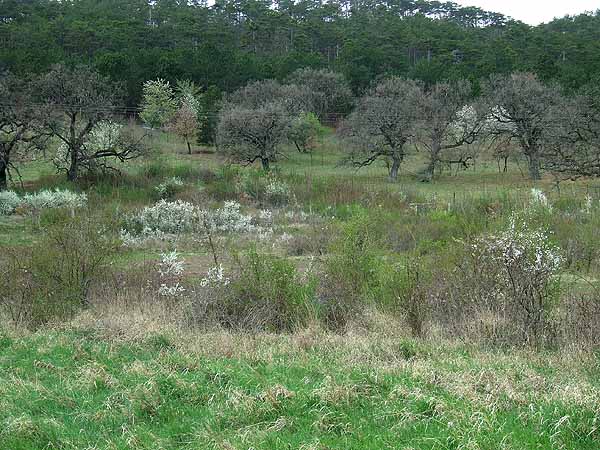 After cleaning the house, we had some hours for collecting. I spotted this old wood pasture from the car.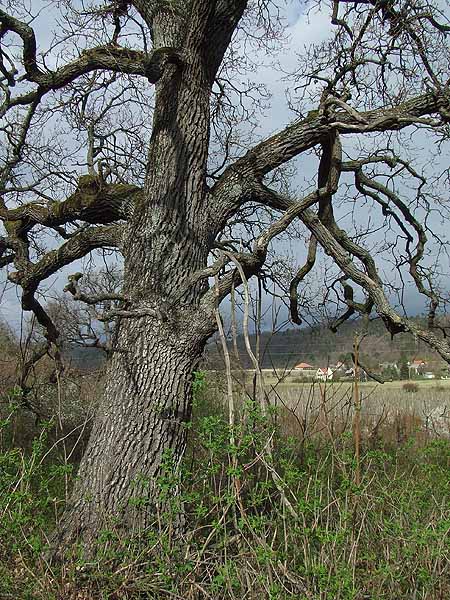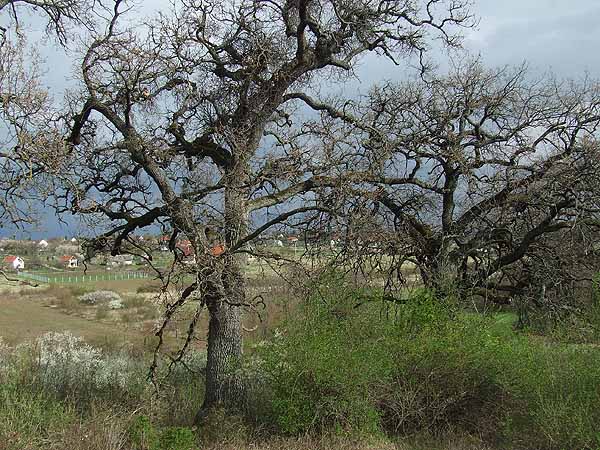 As we got there, we found dozens of old oaks.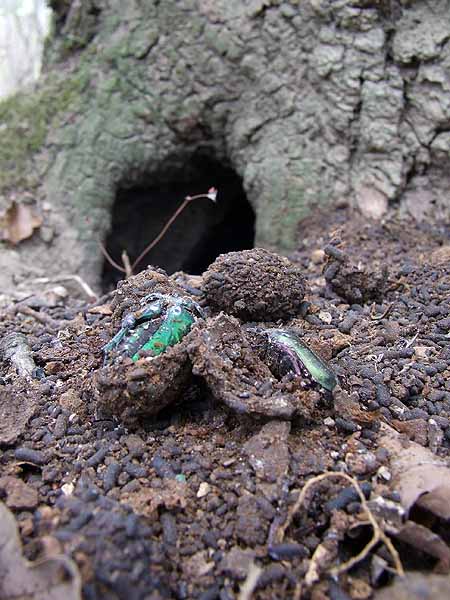 Some trees had cavities, so we started working. In this one among the cocoons of rose chafers, we found legs, elytra and some parts of a rare longhorn species (
Cerambyx welensii
Küster, 1846). Finally we found a few larvae of the violet click beetle and some parts of a dead adult. So here is the first record for the Bakony and Keszthely Mountains!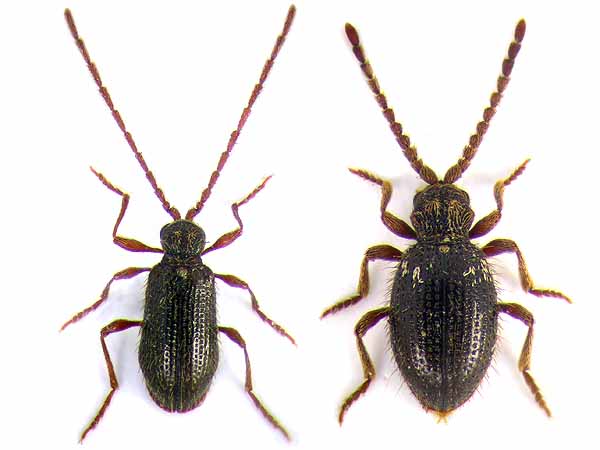 Small spider beetles from beneath bark:
Ptinus pilosus
P. W. J. Müller, 1821.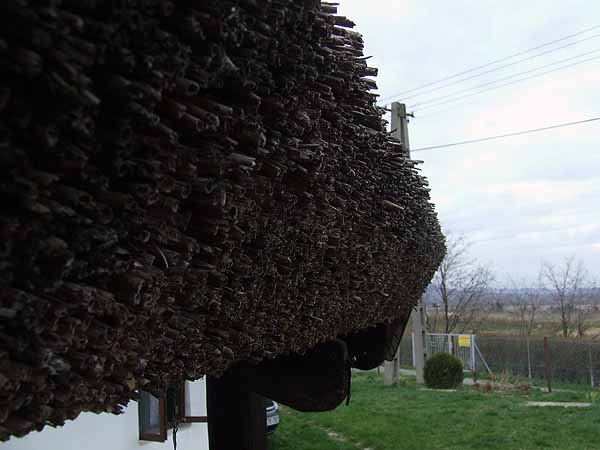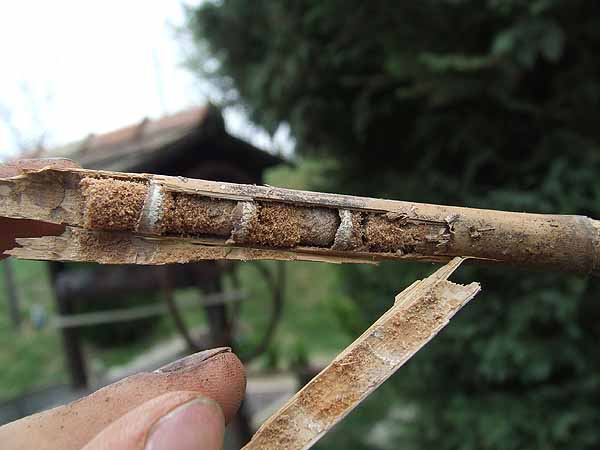 The old house, where Timi's grandparents spend the summer, has an old thatch. In the tubes of reed, small bees were making their nests. I wanted to check what they are collecting for their larva, so I opened one of the tubes.

A big-sized checkered beetle (
Trichodes favarius
(Illiger, 1802)) were sitting inside the tube.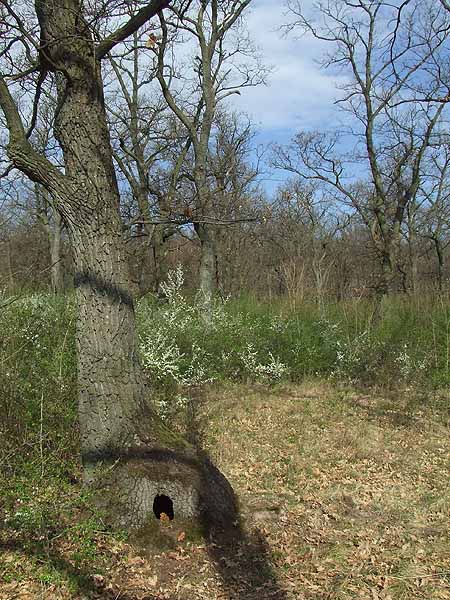 The third trip to the Bakony Mountains was at the beginning of April, and my girlfriend, Petra joined me.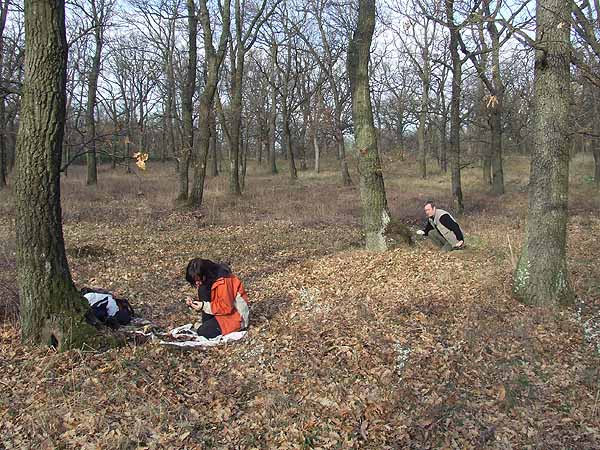 Csaba picked us up at the train station, and the first stop was only five minutes from there.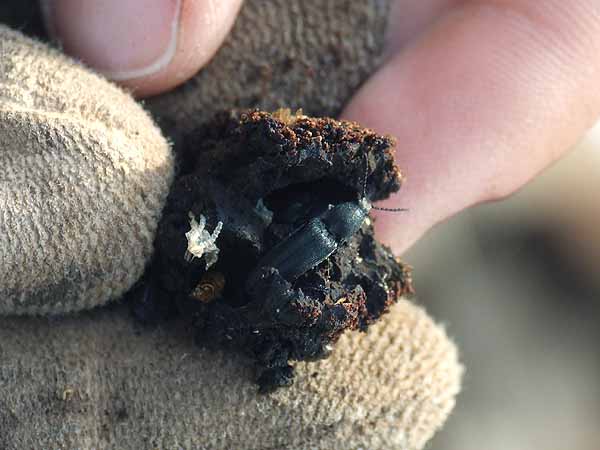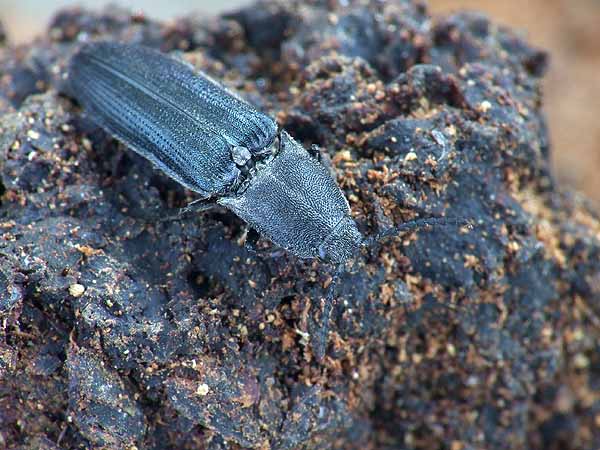 In a nice oak grove, in the first minutes we found some adults of the violet click beetle! We were really pleased and happy, because it meant that we could spend the whole day searching for other nice species.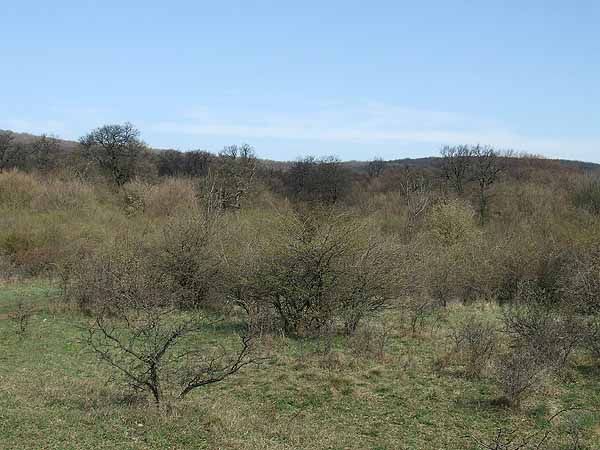 We jumped into the jeep, and Csaba drove through a military area, which is highly guarded.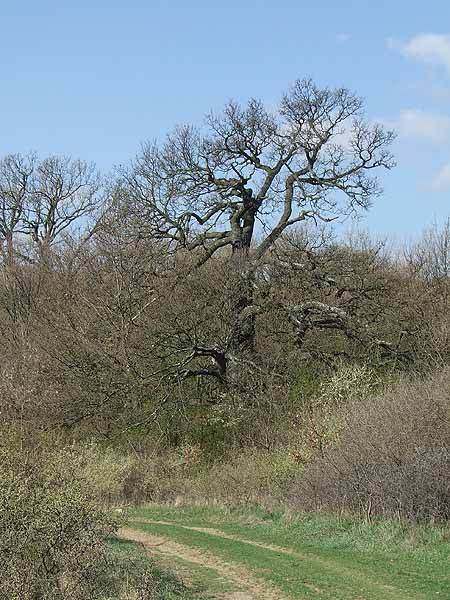 On the edge of the forest we spotted huge oaks again. We arrived.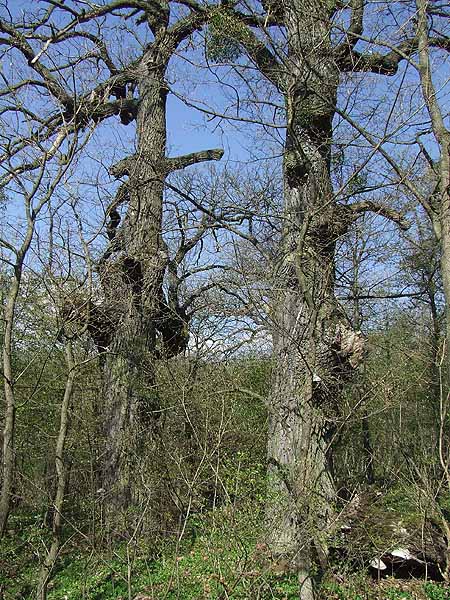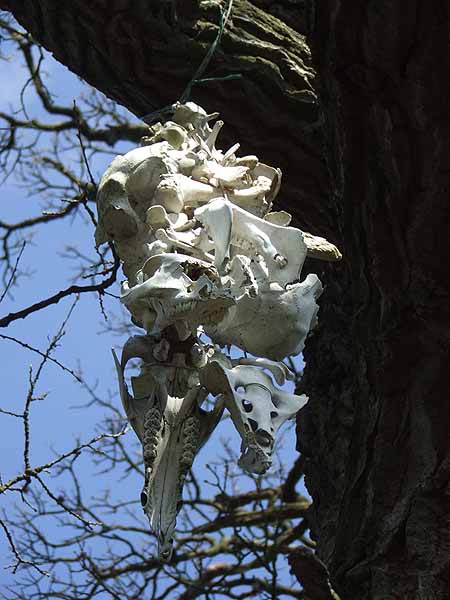 Somebody collected the bones of goats and sheeps from the nearby paddocks, and decorated this tree with them. I have no idea why. Maybe he or she was a witch or magician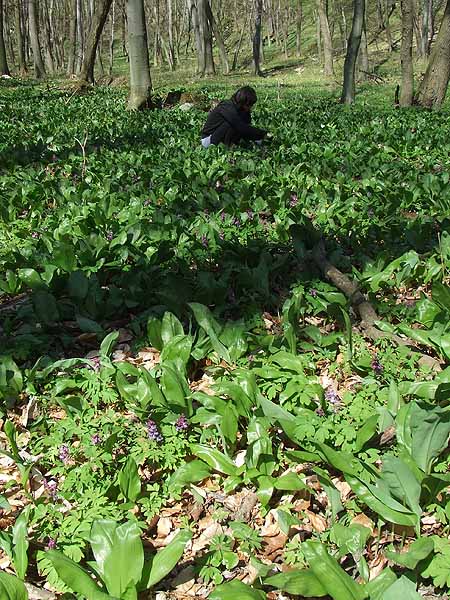 eeper in the forest, in the wet ravine leaves of ramson (
Allium ursinum
) was abundant.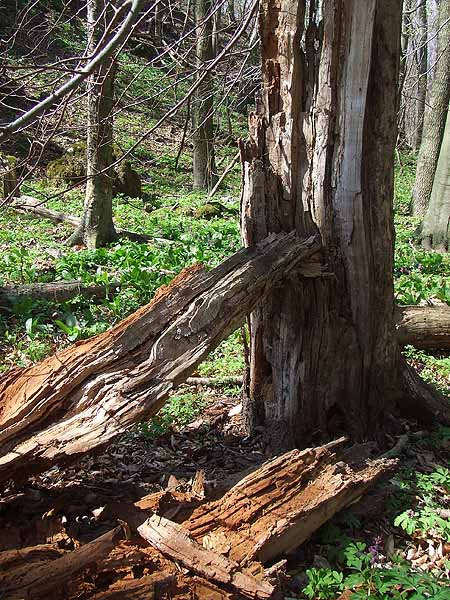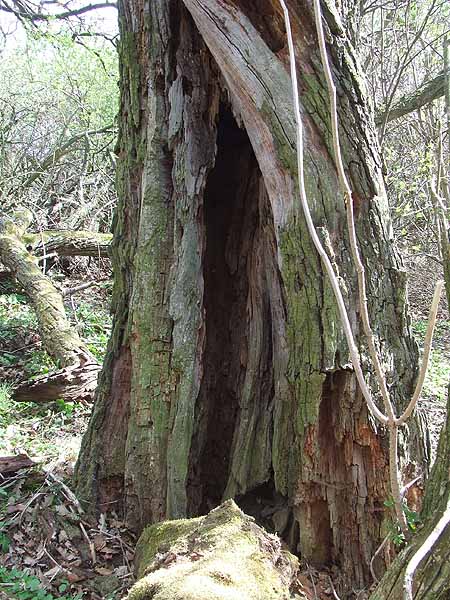 In rotten logs and hollow trees I found larvae of Elater ferrugineus Linnaeus, 1758. Csaba used wine traps here in the summer, and collected this species with them.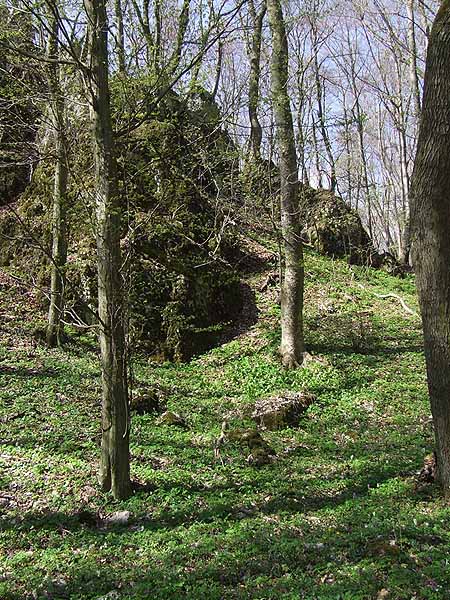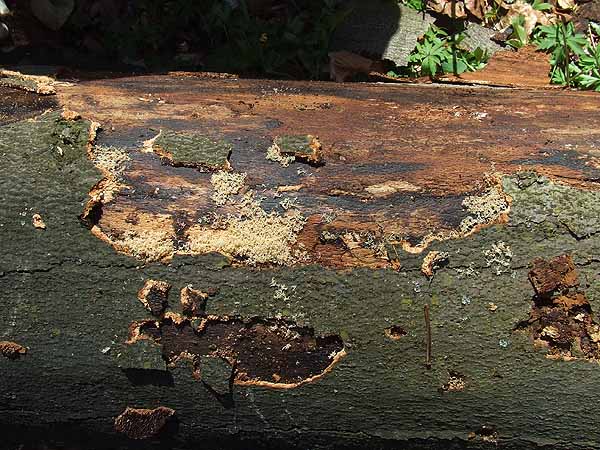 We found this interesting click beetle larva beneath bark of beech. Probably it belonged to
Prosternon
sp. These predatory larvae were among hundreds of small, white worms.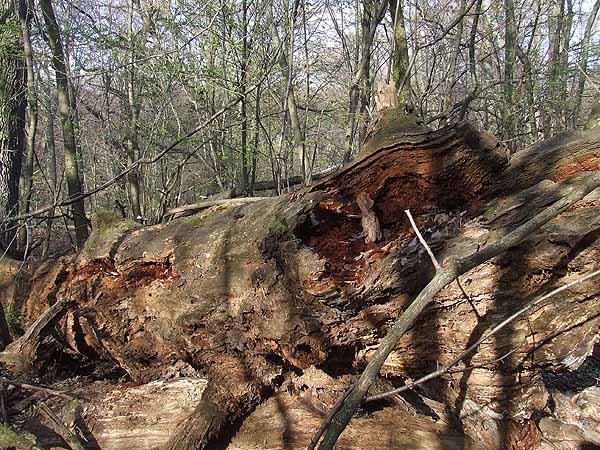 In huge, red rotten oaks trunks rare click beetles were found, such as
Ampedus hjorti
(Rye, 1905) and
Ampedus cardinalis
(Schiödte, 1865). Both of them are new for this region.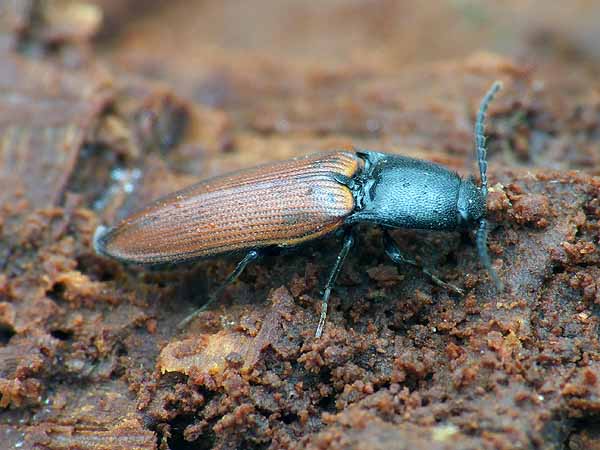 Ampedus hjorti
(Rye, 1905).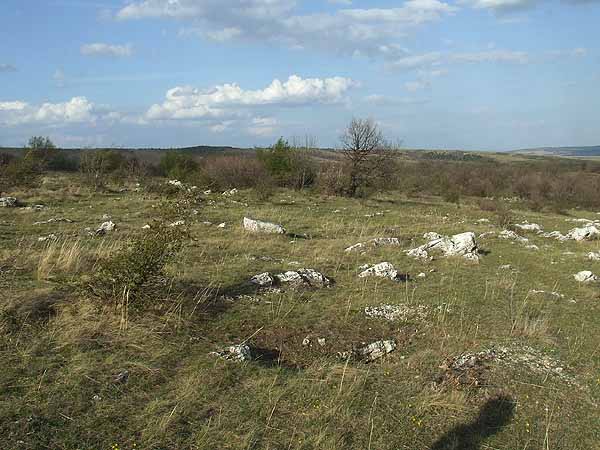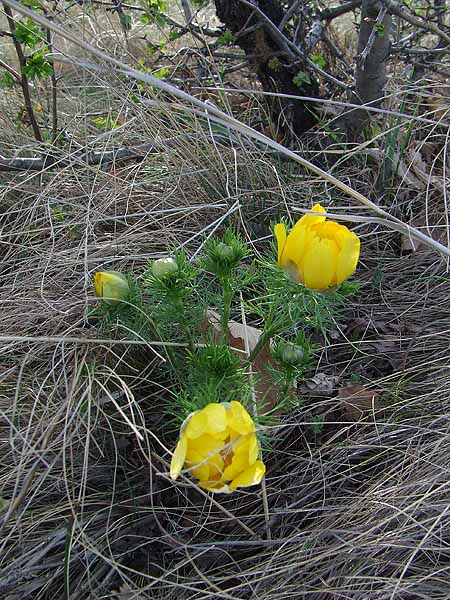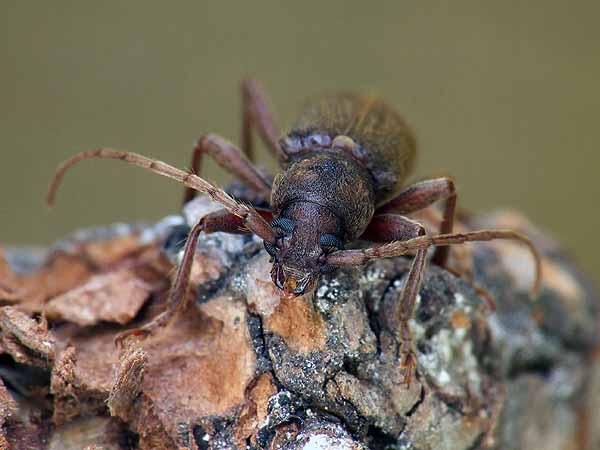 On the edge of the forest, near the grassland of the military area, Csaba collected a nice longhorn last year. It was
Trichoferus campestris
(Faldermann, 1835), which proved to be new to our beetle fauna
.